Ljuba Stepanova, Regional Director
"Cross Wrap´s machines are manufactured in Finland. This helps us to ensure that the high-quality standards we have set for our machines are met."
As a Regional Director I'm a part of the sales team and my sales area is Russia and CIS countries. I'm also responsible of communicating with Cross Wrap's Russian-speaking customers.
Our machines are used in a variety of industries: board, paper and waste management. During the past several years, waste management has been a rapidly developing industry in Russia. Another fast-growing sector in the Russian market is production of wood panels.
In my opinion, Russia is the perfect market for Cross Wrap. Our sales in Russian-speaking countries are increasing through positive word-of-mouth recommendations.
How would you describe Cross Wrap as a company?
Cross Wrap machinery has a global demand. Customers in more than 60 countries rely on our unique bale wrapping method. Cross Wrap is a market leader in waste bale packaging. We are continuously developing and modernizing our technology.
What are the most important benefits Cross Wrap´s customers get when buying Cross Wrap machinery?
Cross Wrap´s machines are manufactured in Finland. This helps us to ensure that the high-quality standards we have set for our machines are met. Our machines are developed using innovative engineering solutions and we have many satisfied customers across different industries who have used our solutions for years.
The design of the packaging lines is carried out by our team of engineers, who consider the specific production, configuration and commissioning needs of each customer. Our customer service team includes 10 engineers who respond quickly to all customer requests.
What are your favorite things to do when not creating industry-leading machinery and world-class customer experience?
My passion is ballroom dancing, and it has been my and my husband's hobby for over a year. We train 2-3 times a week. When we are ready, we are also looking to take a part in a ballroom dance competition. I also like to do yoga at home. Overall, sports keep me in shape and give me energy to do the things I love.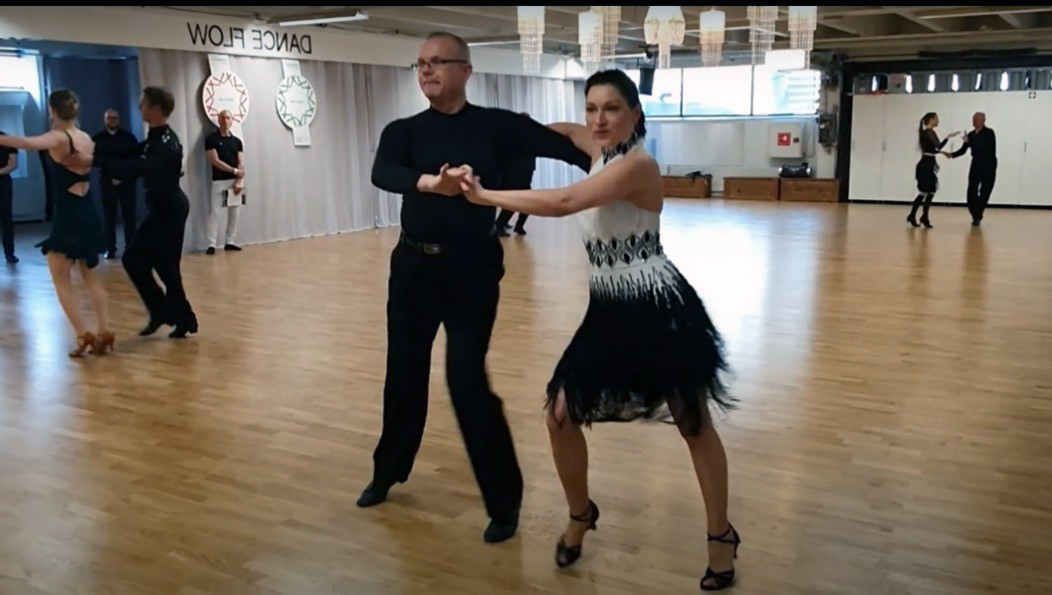 Ljuba and her husband enjoying Latin vibes at the dance studio.
In a nutshell
Name: Ljuba Stepanova
Title: Regional Director (Russia and CIS)
Sales area: Russia, Belarus, Ukraine, Kazakhstan, and CIS countries
Keywords for my work: High motivation, success, and customer satisfaction
Working with Cross Wrap since 2012
My message for CW customers: Our goal is to give the best solution for your business
My passions in my free time: Ballroom dancing and fitness