News
Company acquisition news: new owner, same Cross Wrap
Company acquisition news: new owner, same Cross Wrap

Cross Wrap welcomes the new owner, Saalasti Group, to join the journey for creating smarter operations
Saalasti Group and Cross Wrap today announced that they signed an acquisition agreement under which Saalasti Group has bought 100% of Cross Wrap shares. Saalasti Group is a Finnish, family-owned corporation offering special machinery and services for sustainable processes and industries. Cross Wrap continues its operations as an independent company and brand as a part of Saalasti Group. 
"We are thrilled and excited to welcome Saalasti Group as the new owner of Cross Wrap. Family-owned and globally operating Saalasti Group is a perfect match to continue as the owner of Cross Wrap. 

The ownership of Cross Wrap has changed from one Finnish family to another one. Cross Wrap will go on with the same mission as before – create smarter ways for wrapping, dewiring, and bale opening for our customers around the world," said Satu Kivelä, the CEO of Cross Wrap. 
Timo Saalasti, partner and chairman of Saalasti Group's board, said that the corporation performed a large-scale background work to find the right match. "For speeding the growth of the corporation, Saalasti analyzed more than 50 potential candidates to acquire before we came across the only company matching our tick list. We wanted a company that, like Saalasti, is on the side of the good ones and works for sustainability. Cross Wrap's products are second to none, as growing sales and repeat orders have proven. Also, we wanted a financially sound company."  
"What mattered most is the Cross Wrap's superbly talented team and their expertise to create solutions for the rapidly developing and growing circular economy industry. The fact that the company values of Cross Wrap were almost identical to ours finally made us certain about going ahead with this deal. The Saalasti's family with the third generation already in duty is proud to be allowed to continue the work of the Kivelä family as an owner of Cross Wrap," Mr. Saalasti sums up.  
Cross Wrap continues its journey as an independent company and brand
Cross Wrap engineers and manufactures industry-leading machinery and services for its customers in waste, recycling, and board industries to make their operations smarter.
The headquarters are in the middle of the beautiful lakeside area of Finland, in Siilinjärvi.
All Cross Wrap's professionals continue their work in the company. The founders and previous owners, CEO Satu Kivelä, and Sales Director Kalle Kivelä continue in their current positions.  
"My goal as a CEO of Cross Wrap continues following the mission of the company – remaking the wrapping, dewiring, and packing industry's future today and tomorrow. Our customers' needs are the most important source of Cross Wrap's inspiration and innovations – to those needs, we are responding with our solutions every single day," Satu Kivelä says.  
The future looks bright – there is an increasing need for Cross Wrap solutions
Sales Director and the person behind Cross Wrap's first innovations over 28 years ago, Mr. Kalle Kivelä, says that he feels confident of Cross Wrap's future.   
"Cross Wrap is widely recognized as an industry-leader in wrapping machinery for the waste and recycling industries. We are the uprising and modern solution in board packaging. Also, the plastic and paper recyclers have taken Cross Wrap Dewiring as a smart solution to make their operations safer and more profitable," Kalle Kivelä describes the market position.
Cross Wrap's highly innovative engineering crew and customer-centric sales team are the dream team to solve any challenges in the industries that we work on,"  Kalle Kivelä wraps up.
The start of the year 2021 has been impressive for Cross Wrap
During the first quarter, the company has secured customer orders to deliver bale wrappers, dewiring machines, and board packaging lines to 10 countries and four continents.  
The CEO of Cross Wrap, Satu Kivelä, says that the future looks even brighter. "There is an on growing demand for the solutions we create. The plastic recycling industry needs Cross Wrap Dewiring solutions more than ever when facing the never-before-seen increase in material flow. The development of the paper industry is pushing the paper factories to modernize their processes – CW Dewiring Machine is there to make the working environment of the paper mills safer, more automized, and efficient.
"We at Cross Wrap believe that with the solutions we provide, we create a possibility for our customers to succeed better in all the areas of sustainability; socially, economically, and environmentally," Satu Kivelä summarises.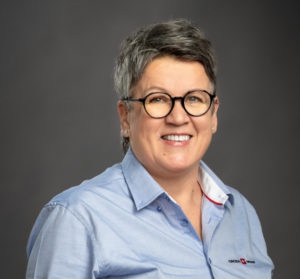 More information:
Satu Kivelä
CEO, Cross Wrap
satu.kivela@crosswrap.com
+358 50 5944594
About Cross Wrap:
Cross Wrap engineers and manufacturers bale wrapping, bale opening, and dewiring machines transforming industry processes and help companies enhance their productivity, safety, sustainability, customer satisfaction, and overall profitability. The company describes itself as innovators, problem-solvers, and engineers. Cross Wrap's customer's biggest challenges are the company's greatest motivation and inspiration to innovate.   
 About Saalasti Group:
Saalasti is a Finnish, family-owned corporation offering special machinery and services for sustainable processes and industries. Saalasti products help power plants generate clean energy and forest industries to reduce unnecessary CO2-emissions and transport companies' shift to rail. Saalasti is known for R&D, unique technology, and some products even becoming industry standards. The company's customers work within the biomass industry, energy sector, circular economy, recycling, packaging, and railway transportation.