Blog
Developing a digital mindset with Laura Leskinen
Developing a digital mindset
Laura Leskinen joined Cross Wrap at the beginning of the year, and she became a part of Cross Wrap's management and Development team.
"After 8 years of working in a Software as a service business and software industry, I was offered a chance to work in the waste and recycling industry which has interested me personally already for years. I took this chance and move back to hometown Kuopio from the capital region of Finland", Laura tells.
Laura's educational background is in Business Administration which makes her a versatile specialist. Her career in the software industry wasn't preplanned. "Well, that was a bit of an accident more than 8 years ago. After my graduation, I began my career in a start-up that operated in the software industry. Now when I think back, it was the right decision. The Software industry and SaaS business weren't familiar to me in the beginning, but it led me to this point where I am now – having an extensive experience in SaaS business", she says.
"My strengths are in customer experience and success, and I use this experience and knowledge in Digital services development", says Laura Leskinen.
At Cross Wrap, Laura is responsible for developing business through digital services, mainly the digital services for Cross Wrap's customers. "My first months at Cross Wrap have been very interesting. I had a chance to participate in customer site visits and to learn about the industry. As a consumer you are not aware of the waste and recycling industry specifics, so for me it felt like a completely different world out there, which is not very visible to consumers. The most interesting in this learning process was to be able to see the specifics", Laura continues.
"My strengths are in customer experience and success, and I use this experience and knowledge in Digital services development. I am aiming to offer the best experiences to the customers. The key factor in creating new opportunities for the business is that we are able to listen to the customer's needs, what brings more value to the customers, what are their pain points, that we could offer the best possible solutions", Laura adds.
MORE VALUE THROUGH DATA
Since the beginning of the year, Laura has been developing digital services for the customers including the Cross Wrap Smart digital customer portal, which was launched in June. The portal is the first step of Cross Wrap's digital services development plan. "We at Cross Wrap want to serve our customers better in a digital field and want to keep our market leaders' position in this perspective as well. The main aspect of this development project is to offer Cross Wrap's customers more value when they use our machinery", Laura tells.
Cross Wrap Smart project requires tight collaboration with outsourced partners and internally, especially with the Sales and Marketing team and R&D. "When working on the spare part webshop it's a tight collaboration with the Aftersales and R&D teams. The aim is to automate our internal processes and make ordering spare parts for our customers easier", Laura comments on the project.
Laura highlights the most important reasons why customers should sign up to Smart portal:
Find all machine information in one place
Access important information 24/7
Find and order correct spare parts with only a few clicks
Gain access to new features that are launching soon
CUSTOMER SUCCESS IS A KEY FACTOR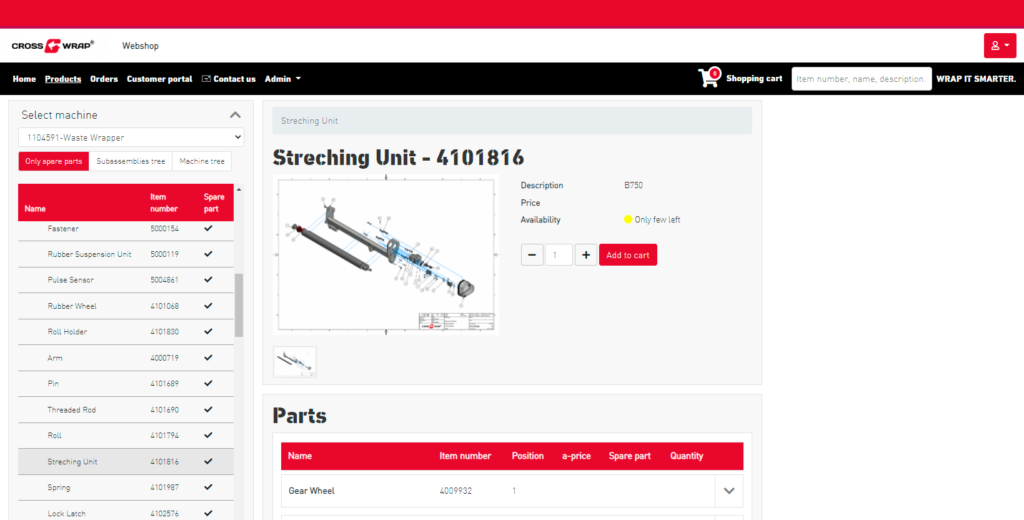 Laura works on her project mostly remotely from her home and she appreciates the flexibility of the job. "My laptop and my phone are my main working equipment. What I enjoy most when I work on this project is the situations when we can offer solutions or services for the customers that can help to develop their business."
We at Cross Wrap help our clients generate permanent benefits in terms of the availability, quality, efficiency, and costs of services. Our customers can provide support in digital platform development and be a part of the project.
"I would like to get everyone involved and to hear their opinions. So, this is my message to all our customers who are interested to benefit from our Smart portal: please feel free to contact me any time. There are no silly questions, and I am happy to discuss our collaboration openly. At Cross Wrap, we are open to hearing everyone's feedback on what could help them that our machines could serve them better," Laura ends her story.
LEARN MORE ABOUT CROSS WRAP SMART
Register to our free webinar webinar held on September 20th at 15:00-15:30 EEST to learn more about the portal!
The agenda for the webinar includes:
Steps towards new digital services

What is Cross Wrap Smart?

Cross Wrap Smart demo

How to get access to the customer portal

Q&A

 
All Cross Wrap customers can sign up to the customer portal here. If you are interested in learning more about the portal or would want to be a part of Cross Wrap's digital development, contact Laura: laura.leskinen@crosswrap.com