Erno Heinonen, Service Sales
"Every day is different when working at Cross Wrap — that's why I like my job!"
I am in charge of the commissioning and installation timetables. I answer customers´ questions about the installation and assist them with any technical issues. I am also a part of the service sales team. I offer services and spare parts for our customer's machines.
How would you describe Cross Wrap as company?
At Cross Wrap, we work as one innovative team with great ideas. We do our best when we serve our customers.
I began working at Cross Wrap in 2019. My job has taught me a lot about technical problem solving and international customer service. Every day is different when working at Cross Wrap — that's why I like my job!
What are the most important benefits Cross Wrap's customers get when buying Cross Wrap machinery?
Cross Wrap customers are boosting their production rates by using our machines. Our automatic machinery requires fewer human resources and reduces costs. Moreover, automation makes the production safer.
What are your favorite things to do when not creating industry leading machinery and world-class customer experience?
I started doing woodwork as a hobby some years ago. I got into woodworking by watching educational programs about the topic. My first project was to make speaker cabinets. After that, I have been making many kinds of furniture. We have many of them in our apartment. I always have a new project on my mind!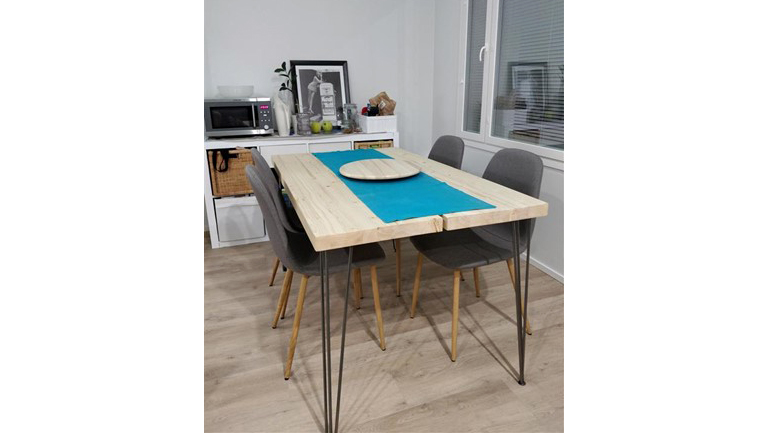 This beautiful table is designed and made by Erno.
My other passion is video and audio production, which has been a hobby of mine for a long time. I love to film my holiday trips and create soundtracks for them on the computer.
In a nutshell
Name: Erno Heinonen
Title: Service sales
Keywords for my work: commissioning, modification, and service sales
Working with Cross Wrap since 2019
My message for CW customers: "Please, don't hesitate to contact me if you have any questions related to our products and services"
My passions on my free time: woodworking, video and audio production