Blog
Cement manufacturing process – what can bale wrappers and openers do?
Bale wrappers and openers in cement manufacturing process
Replacing and substituting fossil fuels with alternative fuels has been an increasing industry trend in the cement manufacturing process in the past few years. As all industries are increasingly impacted by the need for climate action and tightening environmental legislation, the use of alternatives, like SRF and RDF, has further increased. Waste-based fuels can have multiple sustainability benefits for a cement manufacturing process.
However, managing SRF or RDF transportation, storage, and energy value may not be completely straightforward. It can be made easier and more efficient by using the  correct machinery. Could your alternative fuel management be made more effective with the help of wrapping and automation?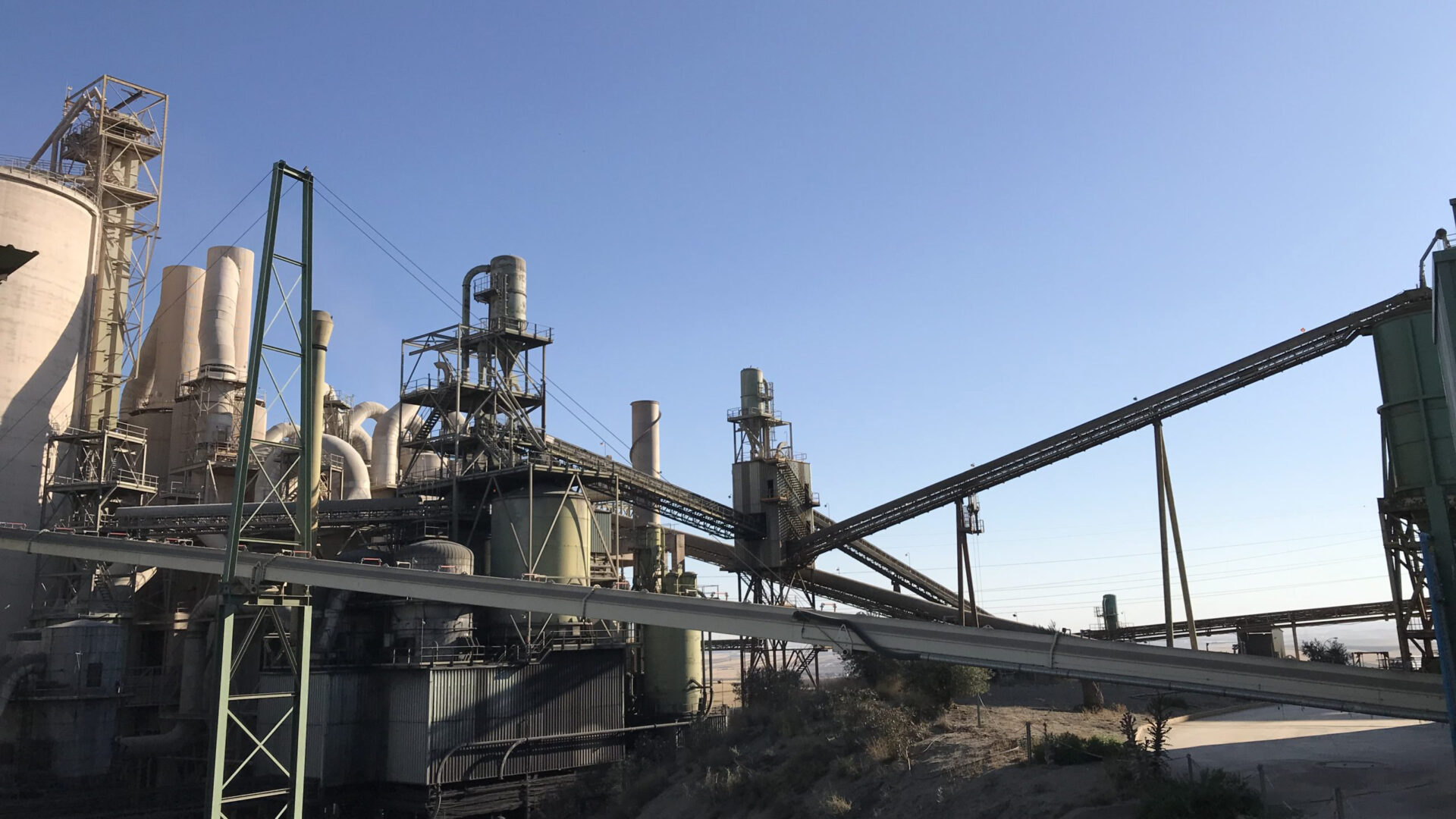 Utilizing alternative fuels in the cement manufacturing process can have multiple sustainability benefits.
What are you burning in the kiln?
Cement kilns have various options for fuel, including coal, natural gas, oil, and alternative fuels. Even though cement is an essential material for many functions, manufacturing it creates significant emissions.
The cement manufacturing process consumes a lot of energy, as the fuels combusted in the cement kiln can alone be up to 40% of the emissions created in the manufacturing process. The fuel of choice thus has a large impact on your cement kiln's sustainability.
Replacing fossil fuels with more sustainable alternatives can help to lessen the environmental impact. The high-temperature cement kiln is an ideal use for waste-based fuels, as the manner in which the material is destroyed both energy-efficient and environmentally friendly.
Using SRF ensures that the energy value of non-recyclable waste is not lost by landfilling the material. Researchers also state that replacing fossil fuels with SRF in the cement kiln does not create additional air pollutants or wastewater in the process.
Replacing fossil fuels with more sustainable alternatives can help to lessen the environmental impact of a cement kiln.
Optimize the use of alternative fuels in your cement manufacturing process
Alternative fuels have a lot of potential sustainability benefits for cement kilns, especially when managed correctly with the correct equipment.
Cross Wrap has engineered multiple solutions for SRF and RDF bales, which can easily be applied to cement kiln environment.
Here are four points in alternative fuel management where Cross Wrap solutions can help make your cement manufacturing process more sustainable.
1. Transport it efficiently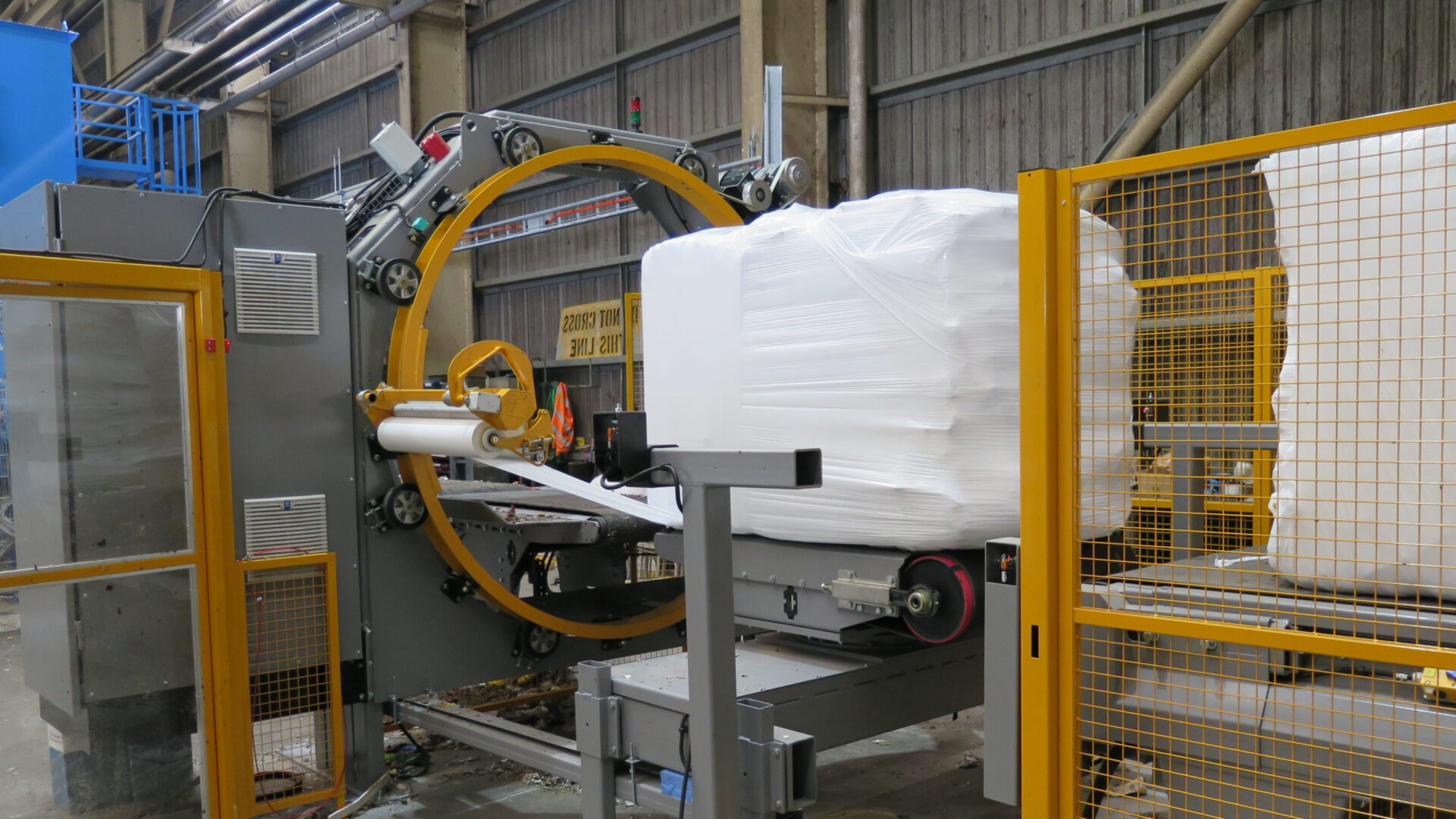 CW Bale Wrapper helps in alternative fuel management.
Whether or not the source of your alternative fuels is under the same corporate umbrella, opting for baled and wrapped SRF or RDF bales is a more easily manageable choice in terms of transportation.
If there is a waste management facility next to the cement plant where the fuel is meant to be used, you likely do not need to worry too much about transportation costs or efficiency. However, if your company is purchasing the alternative fuel from a location that is not near you, wrapped bales have multiple benefits over loose or unwrapped alternative fuels.
Baled SRF or RDF are easy to manage during transportation and when they have arrived at your cement plant.
Additionally, wrapped bales do not litter or leak to the environment, and no fuel material is lost during the transport. Cross Wrap's Bale Wrapper automatically wraps bales and covers them on all sides, ensuring high quality of the fuel.
2. Store it safely
Maintenance breaks and repairs need to take place in all processes from time to time. What happens when there is downtime in the cement manufacturing process? The SRF or RDF stream is not likely to diminish, and there is a need to store the fuel.
Unbaled and unwrapped SRF or RDF can be inefficient to manage. Especially if your cement plant is receiving loose fuel material from a nearby plant, mountains of waste are easily piled up at the plant's premises.
Unbaled and unwrapped SRF requires a cover or a facility where it can be stored. Naturally, this brings additional costs and maintenance requirements. Additionally, loose SRF can cause a fire hazard.
Wrapped bales do not require any additional cover, and the fuel is not damaged by weather conditions. Storage expenses and emissions can be minimized when bales can be stacked on-premises and used when fuel is needed.
Cross Wrap's bale wrapping method protects the fuel inside the bale – for example, no moisture is let through the plastic wrap.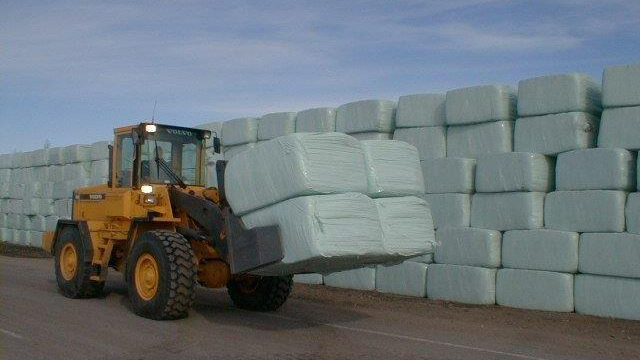 Wrapped RDF and SRF bales are easier to manage.
3. Don't lose the energy value
If there is a need to store your alternative fuels for some time, the material and operational quality of the fuel may suffer. If the fuel is left out in the open, loose, or baled, a fermentation process may begin. Fermentation diminishes the calorific value of the fuel, which decreases the energy efficiency of the fuel.
Wrapping the alternative fuel bales ensures that the fermentation process does not progress. Efficiently wrapped bales have little oxygen in them, which hinders the bacteria that starts the fermentation.
Wrapped bales thus retain the calorific value and energy efficiency of the alternative fuels better. High-quality alternative fuel has the most impact on the sustainability of a cement manufacturing process.
Wrapped bales help to retain the calorific value and energy efficiency of the fuel.
4. Open it up
When the alternative fuel is baled, it must also be opened to be fed into the cement manufacturing process. To ensure high-quality infeed of SRF or RDF, Cross Wrap's CW 3600 Bale Opener automatically opens the bales, removing wrapping and wires from the bales. It is a clean and cost-efficient way to open bales.
Crushing the SRF or RDF bales is another way to get the material ready for the kiln. Compared to Cross Wrap's bale opening method, the process results in lower quality fuel as plastic wrap and metal wires are left mixed in with the fuel.
Efficient wire and wrap removal also ensures that these materials can be recycled, which again can boost the overall sustainability of your cement manufacturing process.
Optimizing the use of alternative fuels is essential for sustainability targets, and with the right machinery, it can be done without a hassle.
CASE: Effective alternative fuel management boosting the sustainability efforts of Loma Negra's cement manufacturing process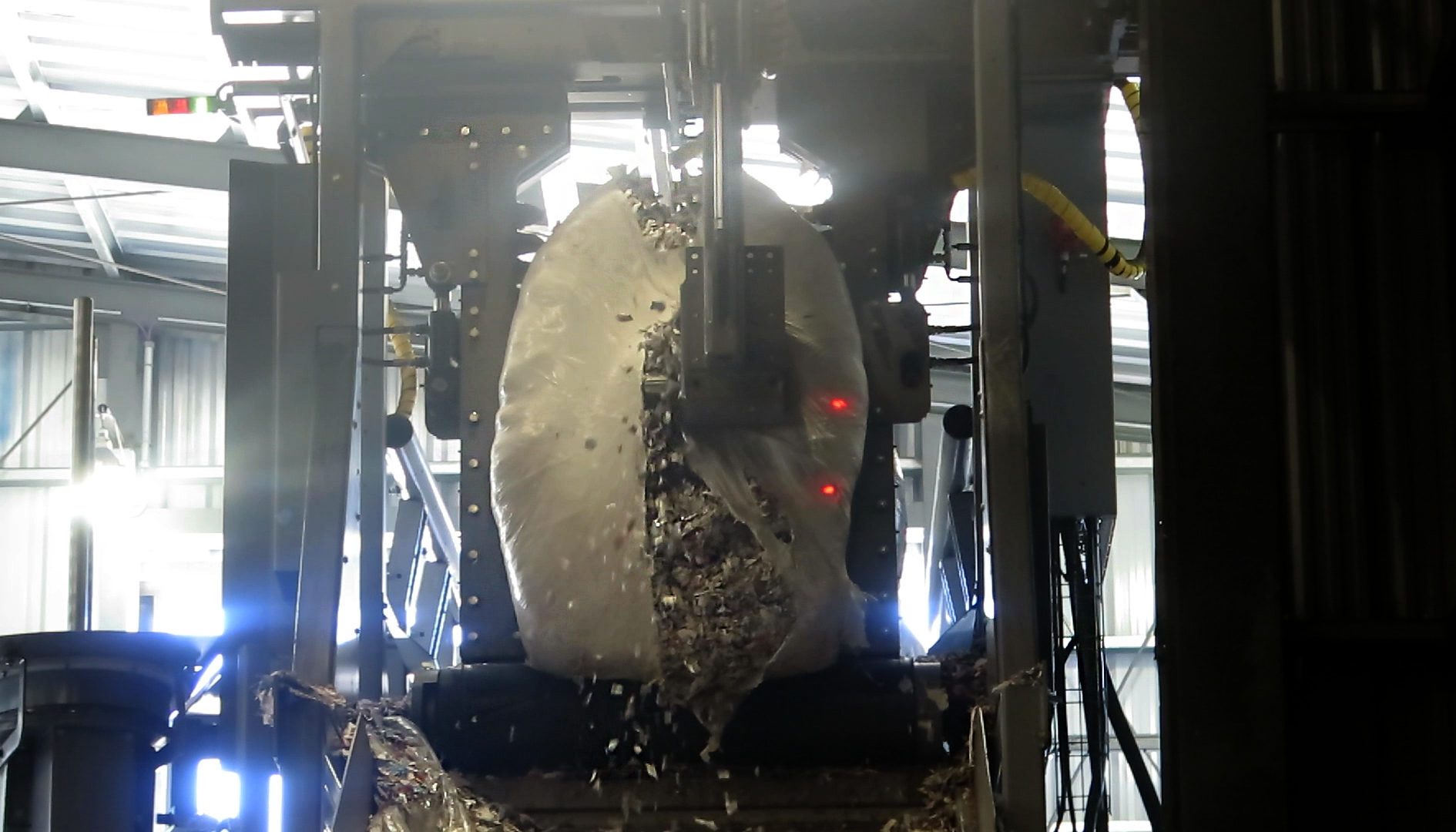 CW Bale Opener operating at Loma Negra cement kiln in Argentina.
One of Cross Wrap's satisfied customers is the Argentinian Loma Negra cement kiln, which is part of InterCement.
The company purchased a CW Bale Opener to boost the efficiency of their RDF infeed. The machine's automatic program can be changed to open both rectangular and round bales, according to the needs of Loma Negra. Flexibility and the ability to minimize manual labor have sped up the infeed process and made it more effortless.
"By using the CW bale opener, our RDF feeding process was simplified, offering more time for general system maintenance and fuel stock management, and optimizing alternative fuel logistics", explains Mr. Hernán Chantiri, InterCement project leader.
Read the whole case here.
Cross Wrap solutions to boost your cement manufacturing process:
Do you want to hear more about how our solutions can help your cement manufacturing process? Contact us and let's discuss it!