Blog
Continuous learning at Cross Wrap
Continuous learning at Cross Wrap
Developing employees' skills is a great way to increase the competence and know-how of the workforce. This is one of the reasons why Cross Wrap is a strong supporter of continuous employee learning.
"Expanding one's competence is essential for our organization", says Cross Wrap's HR manager Satu Hämäläinen. "Many people at Cross Wrap are currently studying, including me. It's important to increase the in-house skills. Opportunities for flexible further education really improves employee retention and satisfaction, as well as our employer image."
In this blog, we introduce the different topics, degrees, and ways our team members are studying whilst working at Cross Wrap. Whether they are working in engineering, sales, or back-office, our staff is eager to learn more!  
What's new in engineering?
Santeri: machine vision and product development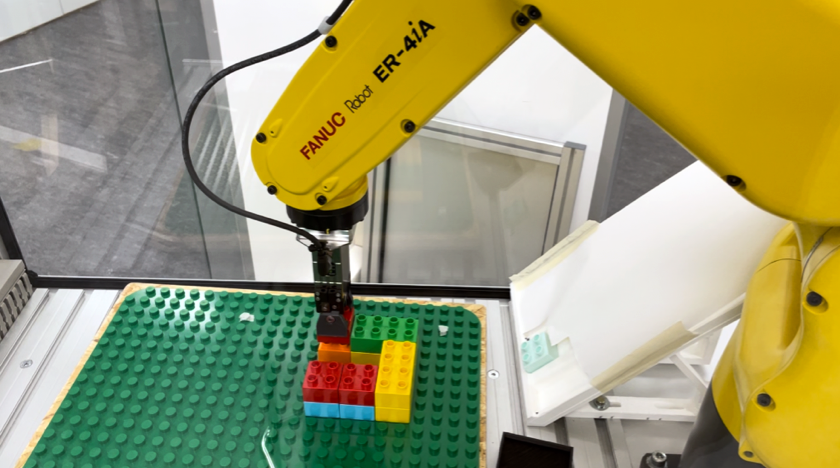 Studying robotics can sometimes look like playing with Legos
Larning something new is essential in developing new product or service offering. "Product development is one of Cross Wrap's focus points currently, and my education directly drives our product development forward", says automation engineer Santeri Virolainen. Santeri is currently pursuing a master's degree in automation engineering at Tampere University and is on study leave during the spring semester of 2023. 
The master's studies contain a lot of theoretical automation and topics like machine vision, robotics commissioning and laboratory work. "My supervisor has allowed a lot of flexibility in combining my studies and work. The priority is taking care of customer projects, but I've also been able to attend lectures and exams during the day as well", Santeri says. 
Timo: acquiring new skills in automation
Studying mathematics, physics, electrical programming has been on Timo Miettinen's schedule since last autumn. Timo is one of Cross Wrap's assembly workers and he has almost completed the first year of his bachelor's degree in automation engineering at Savonia University of Applied Sciences.  
"First year studies are more general, but we've also covered measuring equipment and troubleshooting, which are both necessary in the workplace", Timo describes. After taking a study leave for the first two semesters, he is returning to Cross Wrap's work force. "I'm continuing full time work in April", Timo says. "I hope that I get to do more automation tasks during the summer. It's essential for my learning, at school I'll start automation courses only during my third year."  
Wille: bachelor's thesis on the way
Wille Itkonen started his Cross Wrap career as a summer worker in 2022. Currently he is finishing his bachelor's studies in mechanical engineering at Savonia University of Applied Sciences and working in Cross Wrap's aftersales team in spare part sales. "My work schedule has been pretty flexible – we agreed that I'll work as much as the school allows", Wille describes his part-time work schedule.  
As Wille is in his final year of studies, he's currently working on his bachelor's thesis with the aftersales team. "My thesis focuses on machine structure maintenance and aftersales. Everything new I'm discovering during the thesis process can be applied to my work. In addition to doing the thesis for Cross Wrap, my summer job here qualified as the compulsory internship the degree requires", Wille explains.  
Developing business skills
Anne: new tools for the sales manager's arsenal
Sales manager Anne Lentz is highly experienced in international business through her years at Cross Wrap, where she has been part of the company's initial expansion to foreign markets. To supplement her experience, Anne is enrolled in a 15-month international business program directed at sales managers, which enhances their skills in strategy, value creation, and customer success. "You're never too old, too educated or too experienced to learn something new", says Anne.  
"The program is designed to be completed whilst working. The studies have been great – the tasks and new ideas that arise during the class can directly be applied to my work. I'm developing and sharing ideas to improve my own work or to benefit our shared processes", Anne summarizes. 
Jenni: diving deeper into international business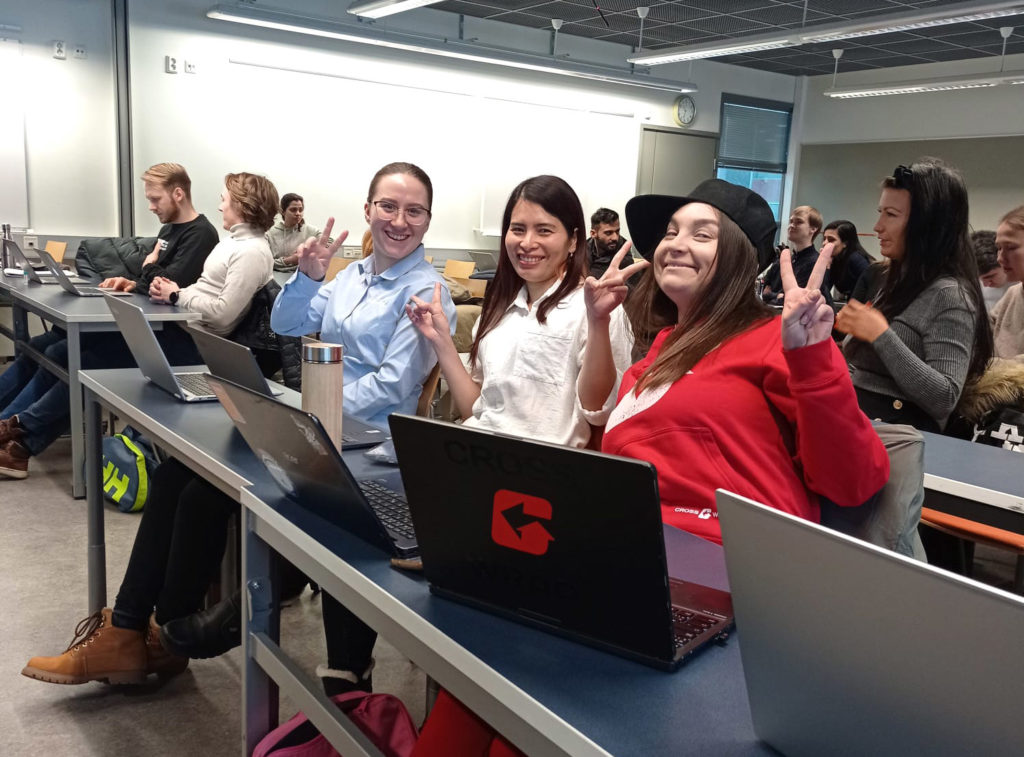 Sales support specialist Jenni and her friends on a lecture at University of Eastern Finland
Our sales support specialist Jenni Kaurola is studying for a master's degree in business administration, majoring in international business and sales management at University of Eastern Finland. Her days at the university consist of course work on international sales, key account management, and market entry planning, for example. 
Even though combining full time work and studying during the autumn semester 2022 was tough, Jenni has enjoyed her master's. "I've gained a lot of practical experience through the course projects, which usually involve actual customer work. For example, my studies on key account planning have been very useful in my day-to-day tasks", Jenni says. "It's also been a great opportunity to network with the local international companies!"  
Gaining skills for back-office roles
Eeva: budget planning and financial statements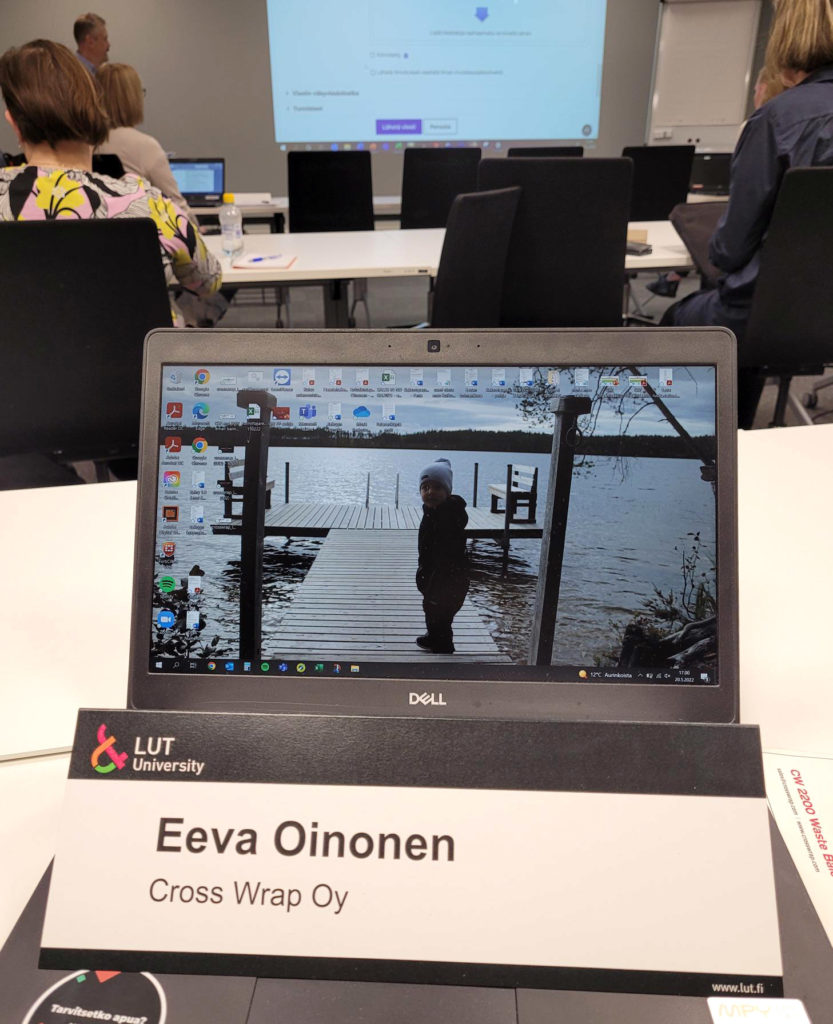 Business controller Eeva balances studying and working during her 14-month degree
"I was encouraged to get a business controller degree, which I will be completing in a couple months", says business controller Eeva Oinonen who currently studies at the Lappeenranta-Lahti University of Technology. Her 14-month degree consists of accounting, tax planning, financial statement analysis, bookkeeping and strategic budgetary planning.  
"The studies are very practical and prepare me for adequate business planning and financial analysis, which directly help our management. My main goal is to effectively apply everything I've learned to my work and understand how I can best support all of our functions", Eeva explains.  
Satu: HR manager in training
"I can mirror the cases in my course work directly to the company. The further education I'm receiving is symbiotic with my job", says HR manager Satu Hämäläinen. Satu is completing a HR manager degree at the Rastor-instituutti. The part-time studies include a variety of different HR topics, like competence development, staff management and studying the labour code.  
Satu previously worked as a freight manager at Cross Wrap, but a growing need for a HR manager in the company lead to Satu's studies. "I'm actively developing our HR processes based on the new information I'm acquiring from my studies", says Satu. "Networking is one of the biggest benefits of the course – it helps me benchmark for strategies and scout for best practices in HR."