Blog
Cross Wrap solutions for the modern paper industry – Part II
Cross Wrap solutions for the modern paper industry – Part II
Cross Wrap creates benefits for the paper industry. Our many innovations are developed to best serve our customers' needs, production lines, and industries. This two-part series on modern paper recycling solutions will showcase how Cross Wrap's innovations can help to streamline and optimize paper recycling. The second part of the series will focus on how our solutions can help companies with pulp handling and pulper reject management.
Reject and product material handling with Cross Wrap wrapping solution
Paper recycling processes also create separate materials that are not suitable to use for making recycled paper or fiber products. These reject materials usually consist of materials that are difficult to recycle, such as mixed plastics. Paper mills and paper recycling facilities separate this material and, in some cases, use it for waste-to-energy purposes. If not, the reject is destined for landfill.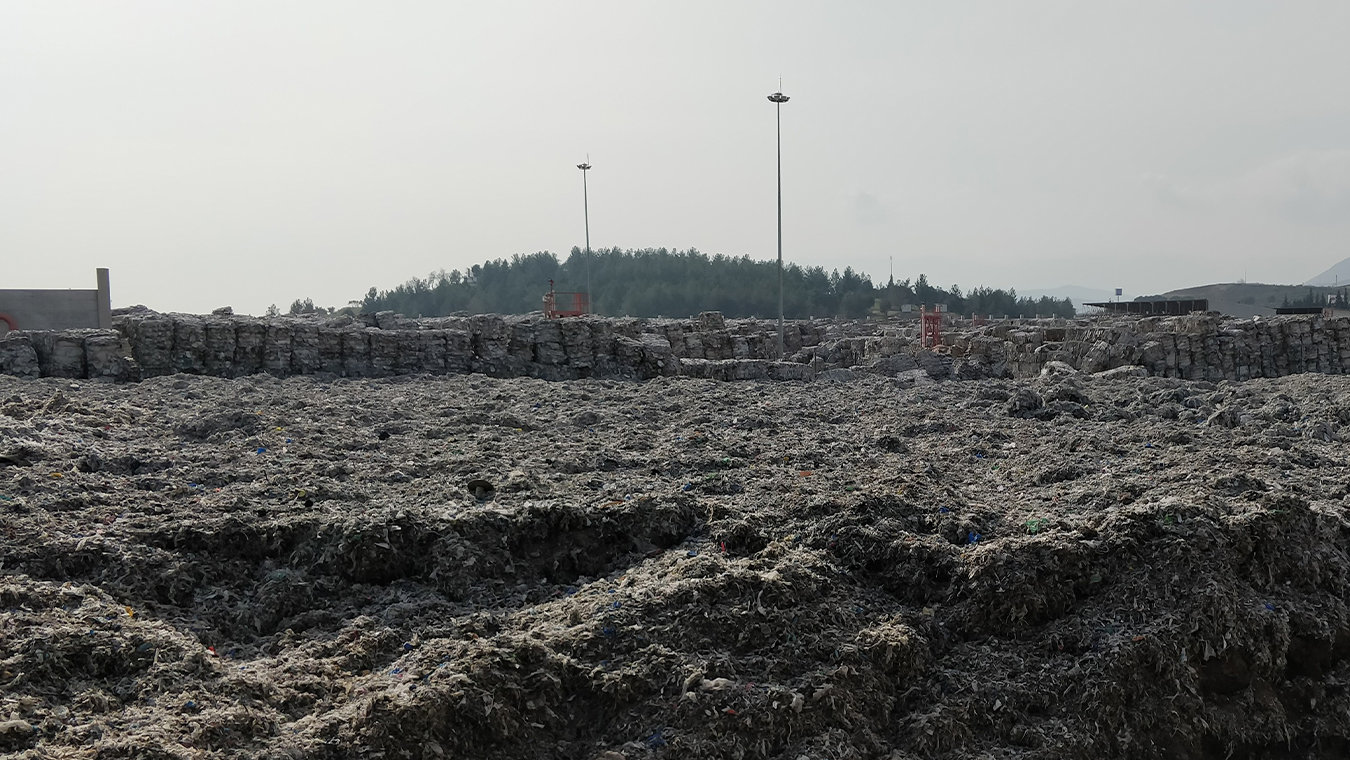 Ragger wire is a difficult material to recycle
Tightening waste handling regulations and industry-wide focus on value-adding operations have created a need for more economical and efficient ways for material handling. For example, reject material handling is now considered an operation that can be improved by modern technology solutions, like cross wrapping.
Cross Wrap engineered automatic bale wrappers are a proven solution for square bale wrapping operations. The CW bale wrappers offer many possibilities to create a very effective and dependable reject material handling solution. The fully automatic Cross Wrap solution helps to minimize operation workload and cuts back costs from reject material storage, transport, and landfilling.
By baling and wrapping the reject, paper mill has a clean storage area, saves space in storage, and gets clean and efficient transport process for the compact wrapped bales. Wrapped bales can be stored outside for months, or even years, as the cross wrapping technique gives a strong cover against the weather. Baled and wrapped reject is also a lesser fire risk than free storage, as no oxygen can get inside the wrapped bales. The wrapping also helps in keeping the areas clean, as no more light fraction plastics are flying in the wind around the storage area and neighboring properties.
The CW Bale Wrappers offer many possibilities for effective product and reject material handling solutions.
Cross Wrap Bale Wrappers can also be used with pulp handling, as the pulp can also be baled and wrapped. This operation helps to create exceptionally dense and heavy pulp bales that are easy to handle, transport, and store. The baling and wrapping process is a fast and efficient way to manage high volumes of materials and to keep the baled material fresh and un-contaminated during handling.  By choosing a two-ram baler together with the CW Direct Wrapper, the bale structure can be simplified as there is only the wrapping film over the bale structure, without any baling wires.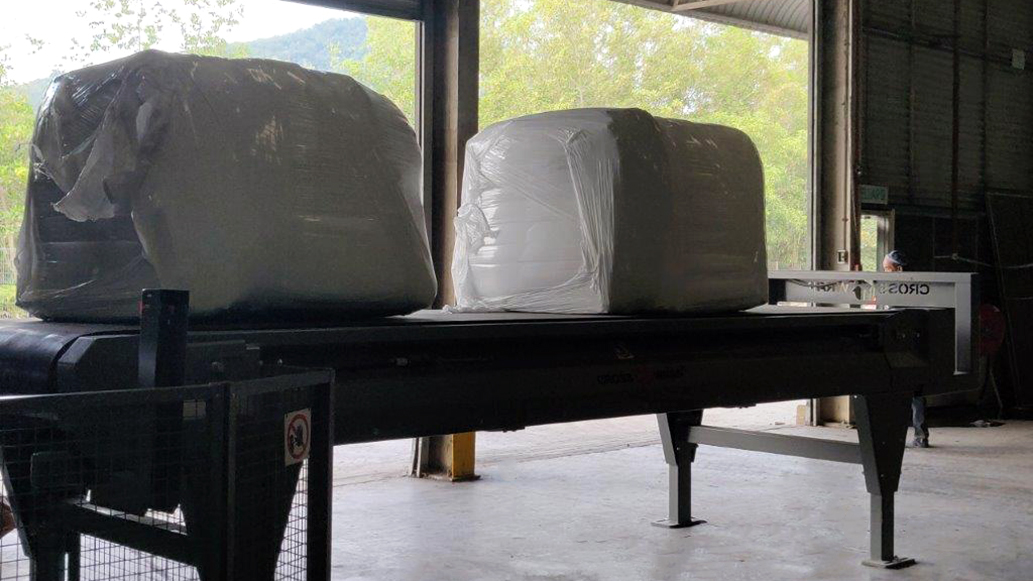 Wrapping pulp bales creates dense bales that are easy to handle and transport
Two Cross Wrap Bale Wrapper models to choose from
Cross Wrap has two main bale wrapper models available, which are the CW 2200 Bale Wrapper and the CW Direct Bale Wrapper. The basic six sides wrapping operation is similar in both machines, but the CW 2200 Bale Wrapper is designed for wrapping tied bales and the CW Direct Bale Wrapper is for wrapping bales directly from 2-ram balers bale chamber without the need for bale tying.
CW 2200 Bale Wrapper is the industry-leading square bale wrapper for all baler types and operation capacities: the wrapper increases plant safety and productivity and reduces labor costs.
CW Direct Bale Wrapper is a tie-free wrapper for all 2-ram balers. No need for bale wires or ties, savings in material costs, and simplifies the process.
Both Cross Wrap bale wrappers are fully automatic and improve operational efficiency and working safety. Cross Wrap bale wrappers work seamlessly with all baler brands and waste baler machines. CW Wrappers offer an impressive 80-ton-per-hour capacity while still running cost-efficiently for smaller capacity operations like reject material wrapping.
Cross Wrap bale wrappers can be used with 500 mm- or 750 mm-wide wrapping films, depending on your operation needs. Additional practical features include cleaning conveyors, opening safety fencing, automatic bale weighing, automatic bale labeling, RFID tagging, and remote control. All Cross Wrap bale wrapper machines have a 3G, LAN, WLAN -modem that allows easy remote service, troubleshooting, and software changes, ensuring that the bale wrapper always performs at its best.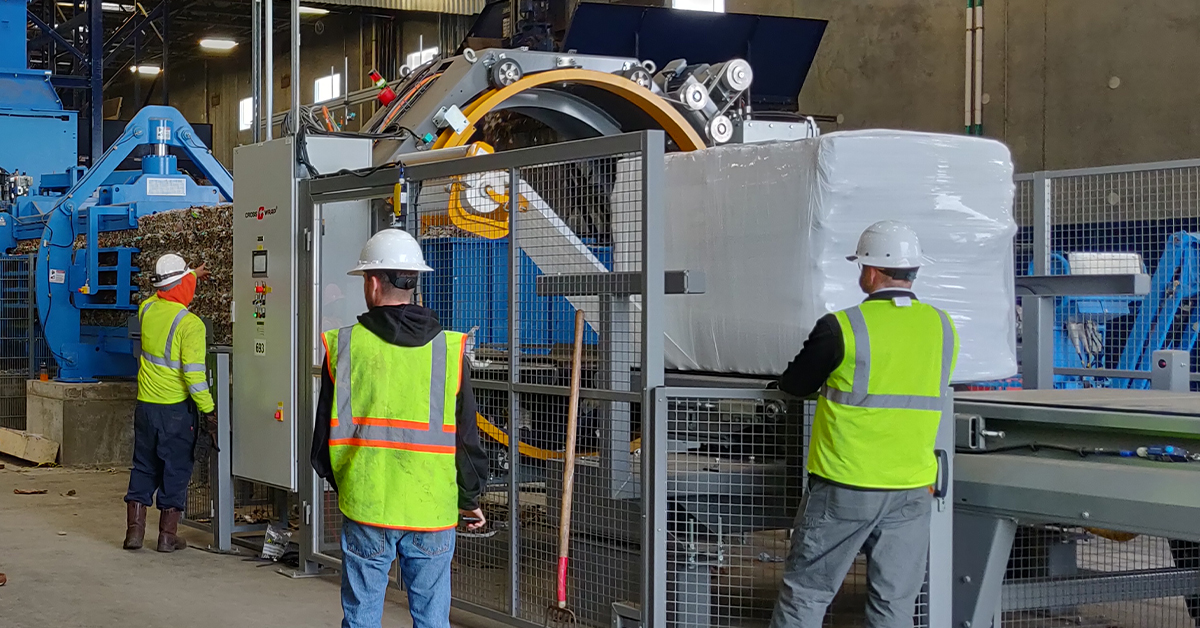 Both Cross Wrap bale wrappers automatically wrap all six sides of the bale, which improves efficiency and work safety
Cross Wrap Bale Wrapper features for efficient reject material handling:
Customize your machine with special feeding and outfeed conveyors.
Choose from 500 mm or 750 mm wide film.
Choose the CW Direct Wrapper when using a 2-ram baler and want to have bales without ties.
Add automatic cleaning conveyors to decrease manual cleaning.
Improve your on-time operation accuracy with automatic bale weighing.
Automate your bale tagging with automatic bale labeling or RFID tagging.
Keep your operation flowing with remote control.
Allow easy update and troubleshoot with WLAN connection.
Create even more rigid bales with optional net wrapping.
Automatic CW Bale Opener opens the wrapped reject material bales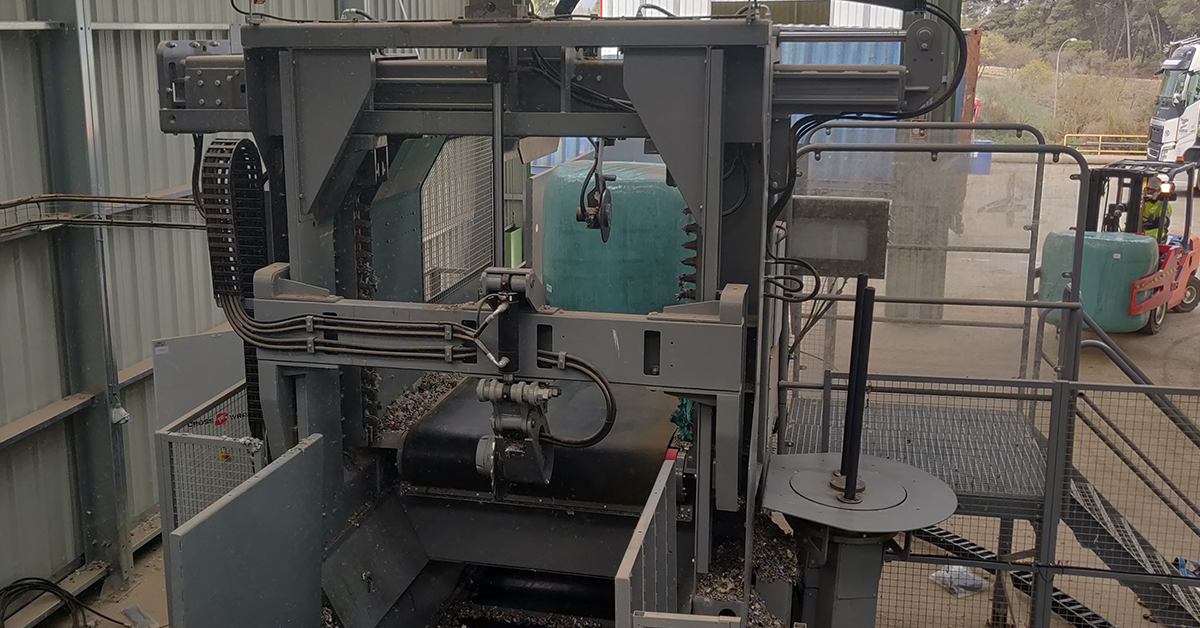 The CW Bale Opener is suitable for opening both rectangular and round bales
Over 20 years ago, Cross Wrap engineered a solution for opening cross wrapped bales. The CW Bale Opener can open both rectangular and round bales. It opens bales and removes the wrapping material and the bale ties away from the baled material such as paper mill reject or pulp.
The CW Bale Opener uses less energy than any other method available and the process makes less dust, is fire safe, faster, and quieter compared to any other machines on the market. The CW Bale Opener´s maintenance is also much simpler and more cost-effective when compared to other bale opening techniques. Both the CW Bale Opener and the CW Dewiring machine are based on the same technology, but the bale opener has additional top and bottom bale film cutting blades.
Cross Wrap material handling solutions help to streamline paper recycling
We at Cross Wrap have engineered machines that can provide a complete material handling solution to aid and improve paper recycling operation from A to Z. Our concept begins with recycled material infeed, which is improved with the CW Dewiring machine or the CW Wire Cutters. The handling of the derived material streams, such as pulper reject or pulp, is donw with the CW Bale Wrapping machines, and the final step, bale opening, is optimized with the CW Bale Opener. The benefits of the CW Dewiring machine and the CW Wire Cutters were discussed in the first part of this blog series. 
The Cross Wrap solutions are carefully thought thru to boost operational efficiency, safety, and profitability of the paper recycling process and it is explained in the chart below: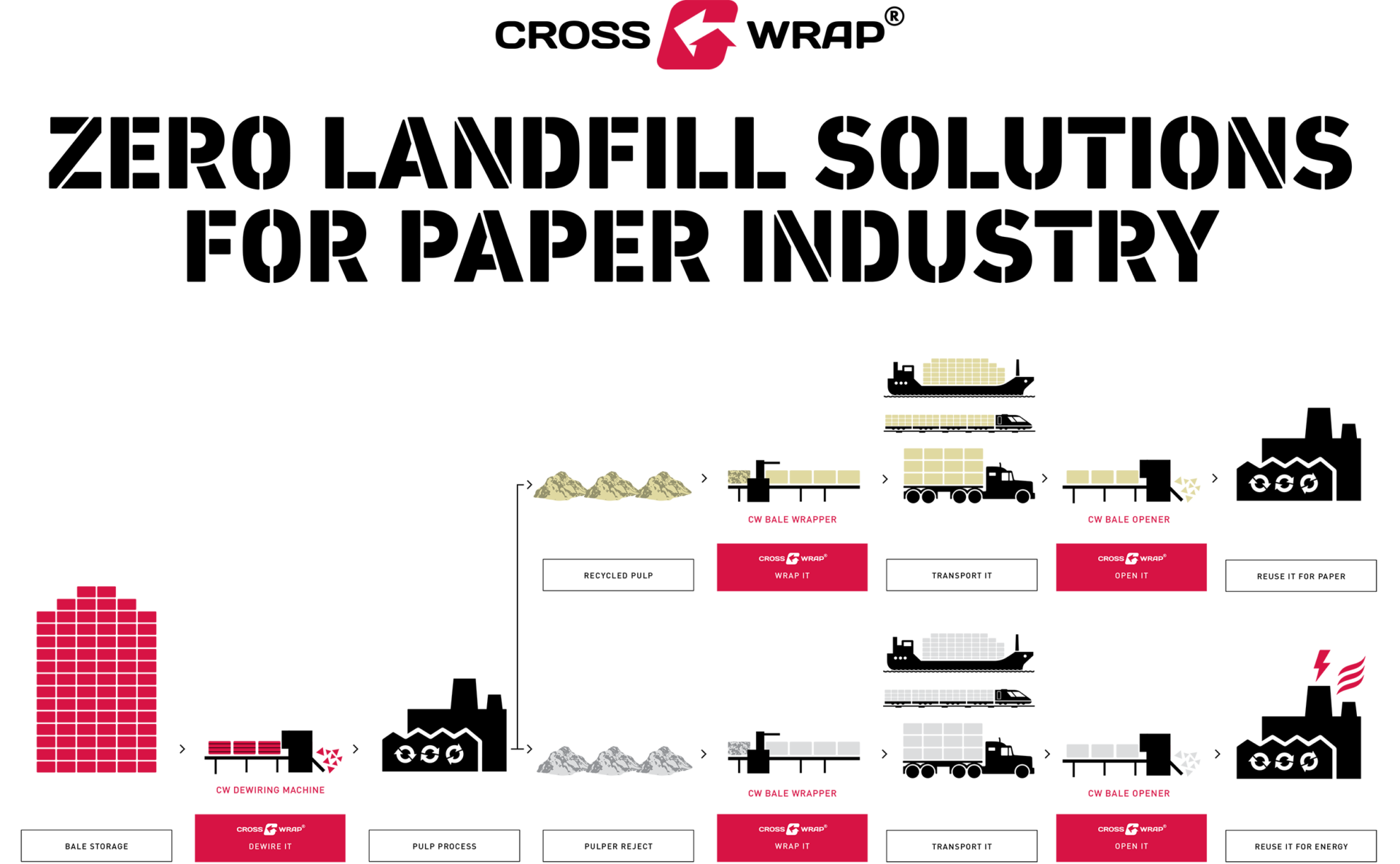 Boosting efficiency, safety, and profitability of paper recycling process with Cross Wrap solutions
Whether you are wondering how to maximize your paper recycling material handling capacity or how to bring down the operational-, logistics- or maintenance costs, you can simply start to use Cross Wrap solutions. This has been the way that many of our paper industry customers have gained the best results out of their operation.
We at Cross Wrap help you to incorporate the smartest methods in baled material handling. We are determined to offer you machinery that helps you to work smarter and with increased profit.
CONTCT US TO LEARN MORE
Cross Wrap professionals are always ready to help you to find the best material handling solutions for your specific needs. We are at your disposal at sales@crosswrap.com