Eeva Oinonen, Business Controller
"My time at Cross Wrap has given me opportunities for professional development."
I work as a Business Controller at Cross Wrap. I'm also the Occupational Safety Representative in our organization. My main tasks include financial administration and reporting, IT support and executive assistance. I report to the CEO, as well as keep in contact with our board members at Saalasti Group.
Any bills and receipts, as well as bank statements go through me. As the admin for our IT systems, I participate in developing the IT infrastructure. I'm also responsible for any non-machinery related purchases: computers, safety gear, visas, credit cards, keys, you name it! I work behind the scenes to help our staff to do their job.
How would you describe Cross Wrap as a company?
Cross Wrap is a workplace that can sometimes feel like a family. Our good team spirit is based on trust and appreciation between employees. I want to make sure all of my coworkers know and feel that they can be freely themselves around me.
I have been with the company since 2018. My time at Cross Wrap has given me opportunities for professional development. I'm appreciative of the trust, responsibilities, and opportunities I've received here.
What are the most important benefits Cross Wrap´s customers get when buying Cross Wrap machinery? 
We at Cross Wrap make sure that the customer will receive a machine according to their needs and wants. We don't only have one type of Bale Wrapper or one type of Dewiring Machine, the options can be customized and changed to fit the customer requirements.
We also have a great staff. Each employee at Cross Wrap, regardless of the team, is a professional in their own field. Every one of us is ready to help our customers – if not directly, we'll direct them to the right person.
What are your favorite things to do when not creating industry leading machinery and world-class customer experience?
I'm currently studying in LUT university in Lahti for a specialist degree as a part of my competence development whilst working.
In my free time, I love spending time with my brothers' children. Being an involved aunt is important to me and I try to see them around once a week. We go sledging and watch ice hockey games together.
I also spend a lot of time with my friends. We go on walks and play sports like basketball and badminton. I've found some great friends from work, like Anne, with whom I for example go to yoga classes and on bike trips around Kuopio during the summer.
For my second weekend job, I work for the Finnish National Hockey League in Kuopio. During the hockey game, I first set up other workers to their tasks and then go to help out where I'm needed. This includes managing the cash registers, bartending, ticket sales and selling sausages at food stalls.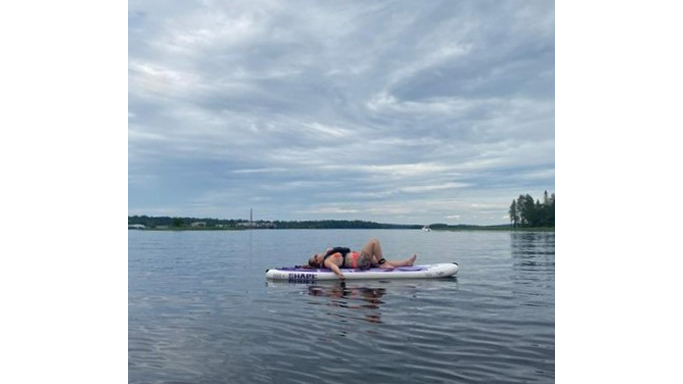 First day of summer holiday: SUP boarding on lake Kallavesi.
In a nutshell
Name: Eeva Oinonen
Title: Business Controller
Keywords for my work: Financial administration, IT support, occupational safety, and executive assistance
Working with Cross Wrap since 2018
My message for CW customers: "Remember to pay your bills on time, unless you want to hear from me!"
My passions on my free time: Nature, being an involved aunt, spending time with my friends