Blog
Waste management in Germany: solutions for an advanced waste infrastructure
Waste management in Germany
Waste management in Germany has one of the most ambitious development goals in the world. Circular economy, waste minimization and plastic recycling are hot topics for the country's legislation, manufacturers, and consumers.
The overall waste management landscape of Germany is characterized by a strong legislative drive towards resource efficiency, sustainability, and conserving natural resources. Learn more about the unique waste management strategies in Germany by reading on.
Efficient waste management systems in Germany reduce environmental impact
Did you know that Germany is one of the world's leading countries in minimizing waste? The amount of waste created per capita in Germany has dropped to less than 50% of the amount generated in 1985. Today, Germans produce only ten kilograms of waste per month, 50% less than the world average.
Minimizing, collecting, reusing, and correctly disposing waste comes inherently to Germans. This has been the case for decades, as the current Waste Management Act in Germany is based on a national waste disposal act established in the 1970s.
Did you know that Germany is one of the world's leading countries in minimizing waste?
The impressive waste reduction and recycling numbers are largely tied to the efficient waste infrastructure in Germany. For example, the country has localized waste-to-energy plants, which leads to short waste transportation distances. The need to export waste to other countries is also decreasing due to efficient national recycling and treatment methods.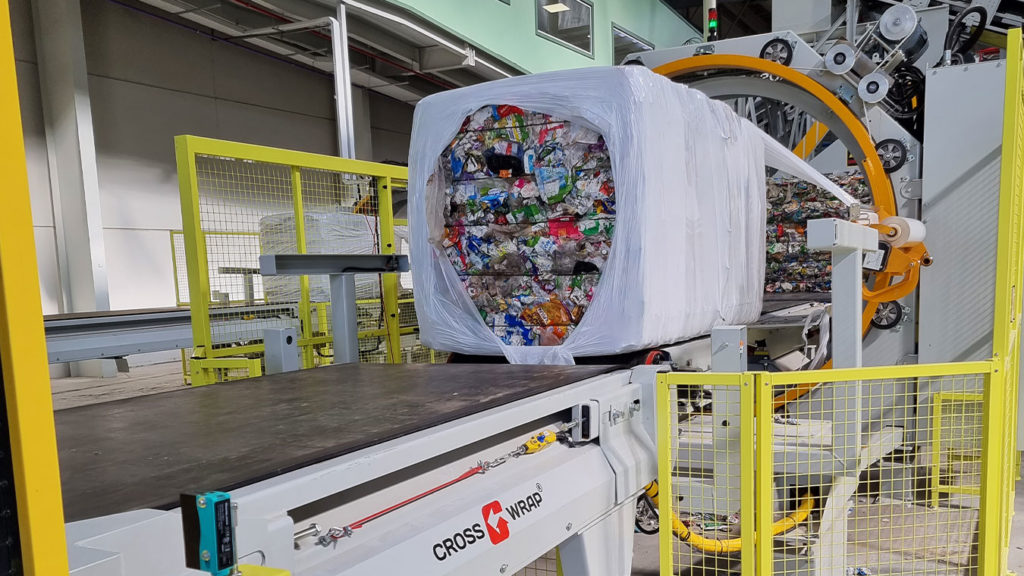 The CW Bale Wrapper is an industry-leading solution for wrapping various waste materials.
Even though transporting waste material to waste-to-energy plants is not a long process in Germany, the storage of the waste material, such as RDF, can be difficult. The Cross Wrap Bale Wrapper helps to make the handling of RDF or other waste-based materials easier. Wrapping waste bales ensures a cleaner handling and transportation process, as the bales litter less. Transportation is also more efficient with baled RDF, as waste is condensed into a smaller space when baled.
Compared to loose waste, baled and wrapped RDF poses a significantly smaller fire hazard, as the plastic film prevents the creation of combustible gasses. Wrapped RDF bales also retain their calorific value better. Efficient storage practices help to either build or maintain a buffer storage for waste-to-energy plants. 
When landfilling is the only option, wrap it up
Due to the high numbers of waste reduction and energy recovery practices, landfilling numbers have plummeted in the past years. Germany closed many landfills in the beginning of the 2000s guided by EU directives, and actively continues to modernize the remaining landfills to comply with the new regulations. In addition to landfills, Germany is ahead of the curve many waste management targets set by the European Union. In 2017, only 1% of German municipal waste ended up at landfills, when the EU goal instructs that the landfilling percentage should be less than 10% by 2035.
Germany has achieved many goals in circularity and avoiding landfilling, but there are still some waste that cannot be reused, recycled, or incinerated. Hazardous construction waste, like mineral insulation wool (Künstliche Mineralfasern, KMF), must be handled in a different way.
Mineral insulation wool can contain asbestos, which is a hazardous material
There is a possibility that the insulation wool contains asbestos, which can create various environmental and health problems. Traditional landfilling or incineration leaves the potentially hazardous material in contact with the environment, which leads to pollution or human asbestos exposure.
Due to the potentially hazardous nature of the mineral insulation wool, the discarded material must be baled, wrapped, and sent to a dry landfill. Dry landfill practices include baling and wrapping waste, which maximizes the land use and isolates the waste material from the surrounding environment.
Due to the potentially hazardous nature of the mineral insulation wool, the discarded material must be baled, wrapped, and sent to a dry landfill.
The CW Bale Wrapper and the CW Direct Bale Wrapper are industry-leading solutions for wrapping various kinds of waste materials. The CW Direct wrapper is especially suitable for materials that tend to litter or spread. To prevent that, the wrapper is mounted on a two-ram baler and the bale is wrapped directly as it comes out from the chamber. The machine has successfully been utilized specifically in the safe and environmentally sound management of mineral insulation wool.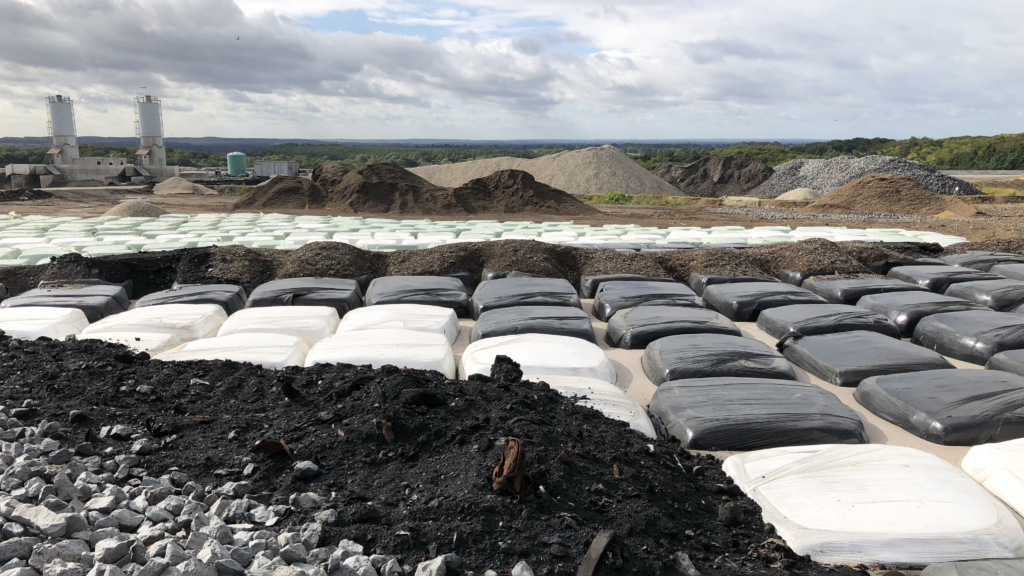 Read more: A mobile solution for artificial mineral fiber baling and wrapping
Baling the insulation wool saves space at landfills, and is the most efficient way of compacting the material. The wool can be condensed into bales weighing 1000 kilograms, which are then wrapped. The film layer over the bale makes the wool bale more secure, and keeps any hazardous materials from spreading during handling or landfilling.
High goals for plastic recycling from EU incentives
Alike with landfilling, Germany closely follows the EU's recycling goals. In 2018, goals for plastic recycling were set to recycle 55% of plastic packaging waste by 2035. In addition, increasing the amount of recycled materials in plastic products and moving away from single-use plastics has increased Germany's efforts in plastic recycling.
According to a study done on the development of waste management in Germany, 14% of raw materials used by German industries are recovered waste. The closed-loop, circular economy mindset also extends to plastic waste recovery and recycling. Plastic waste management in Germany is very highly developed.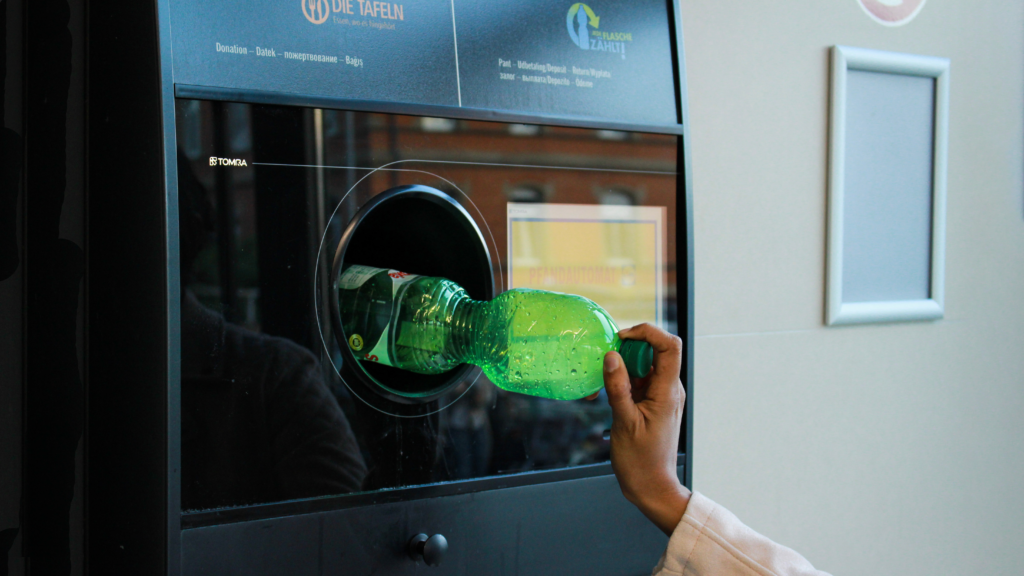 Plastic recycling infrastructure and material recovery incentives are highly developed in Germany
For example, have you heard of the Pfand system, in which a deposit is added to the price of goods in bottle packaging? By returning the bottles to recycling automats, consumers receive the deposit back. The process encourages plastic recycling and material recovery. Due to this system and other various waste management strategies, plastic recycling numbers have increased by 14% between 2020 and 2021.
Due to the ambitious recycling goals set by national and EU legislation, Germany has a high number of plastic recycling facilities, and even more are expected to open in the near future. The amount of plastic waste exported to foreign countries is dropping rapidly – in 2021, Germany exported 25% less plastic waste than in the year before.
Advanced solutions to boost plastic recycling
To reach the ambitious goals of the German government and the EU, the operators in German plastic waste management would benefit from automation.
Cross Wrap's Dewiring machine is a widely-adopted solution amongst plastic recyclers. Whether the recovered plastic is recycled chemically or mechanically, bale dewiring is a key step in improving the quality of the material.
Metal bale wires are removed from the process simultaneously with when the bale is opened. This ensures that no impurities end up in the recycling process, and other recycling equipment are not damaged by the metal wires. Moreover, recovered metal wires can be further recycled.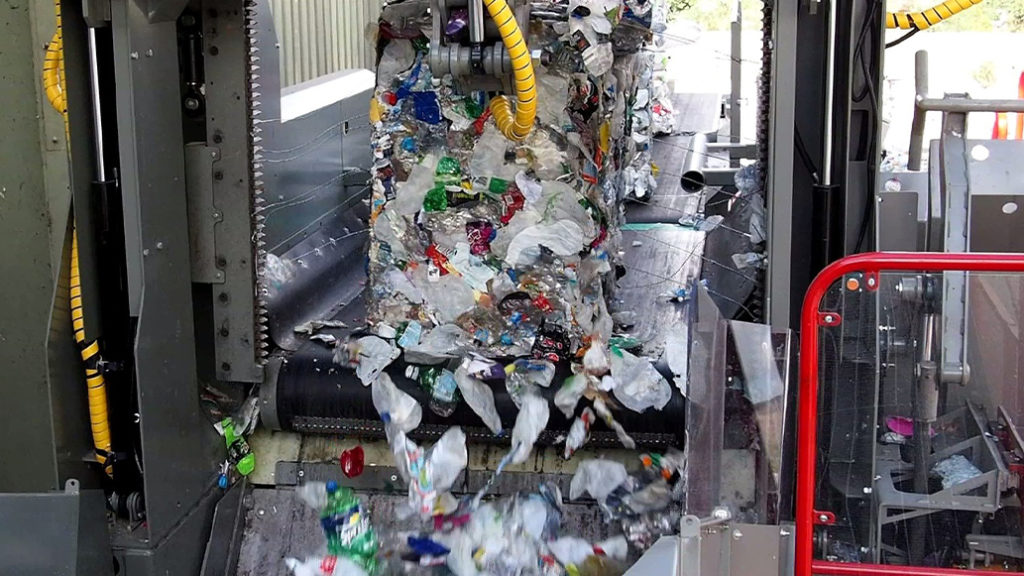 Read more: Automatic dewiring improves processes in chemical and mechanical plastic recycling
As the plastic recycling industry is growing, labor costs and employee safety are becoming matters to closely consider. The automatic CW Dewiring machine optimizes material infeed and bale opening without the need for manual labor. This frees employees to other, more productive and meaningful tasks. Additionally, opening plastic bales by hand can result in dangerous situations, and opting for automatic bale opening reduces risks of injury.
Cross Wrap's Dewiring machine has dozens of satisfied users all over the world, for example in Switzerland.
"Now dangerous bale wire cutting is done safely with a special Dewiring machine. This helps to improve working safety", says Mr. Casper Van Den Dungen, the CEO of Poly Recycling.
Learn more: CW Dewiring PET Plastic at Poly Recycling AG, Switzerland
Cross Wrap in the German market
Cross Wrap solutions for boosting waste management in Germany:
The CW Bale Wrapper for more efficient handling, transportation, and storage of RDF.

The CW Direct Bale Wrapper for safe and environmentally sound disposal of mineral insulation wool.

The CW Dewiring Machine for boosting material quality, employee safety, and recycling rates.
Over the years, Cross Wrap gained in-depth knowledge about waste management in Germany through providing multiple machines to various industries. To learn more about how we could solve your problems, contact Cross Wrap's Sales Manager for Germany, Eetu Laatikainen.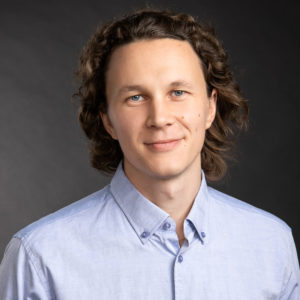 eetu.laatikainen@crosswrap.com
Tel. +358 44 722 2058