Blog
Behind the scenes: CW Board packaging line in the making
CW Board packaging line in the making
Have you ever wondered what happens behind the scenes before your Cross Wrap machine is shipped to the facility?
Cross Wrap's assembly and automation teams are the key people in ensuring that our machines run smoothly. In this blog, we peek behind the scenes at the production of a CW Board packaging line and discuss the testing process from the point of view of our assembly and automation experts.
The components of a board packaging line
Cross Wrap has operated in the board industry as a packaging machinery provider for many years. The CW Board packaging line utilizes the same mechanics as our CW 2200 Bale Wrapper, both in which bales and board stacks are packaged neatly with wrapping film. Even though the machines may look similar, the board packaging line tends to be a more intricate system to make.
In addition to the wrapping station and rotation table, the board packaging line usually has multiple conveyors both feeding and transporting board stacks. Another big difference board packaging lines usually have compared to Cross Wrap's bale wrappers is the skid machine, which inserts wooden skids under the board stack. Customers manufacturing wood-based boards, like plywood and veneer, usually opt for this add-on.
The CW board packaging line is completely electrical. This that means every conveyor is operated electronically with its own field frequency converter, and is capable of precise positioning of the stack. Customers who value a sleek and presentable appearance of their product packaging benefit from a seaming unit and robot labeler, which can also be part of the board packaging line.
Putting the parts together
After an order confirmation from the customer, a project begins. There are multiple steps taken in planning, engineering, purchasing, and manufacturing before all of the machine parts, materials, and components are ready to be put together by Cross Wrap's assembly. When the materials have been acquired, they are ready for machining and welding. In addition, the parts are treated with abrasive blast and the surfaces are finished.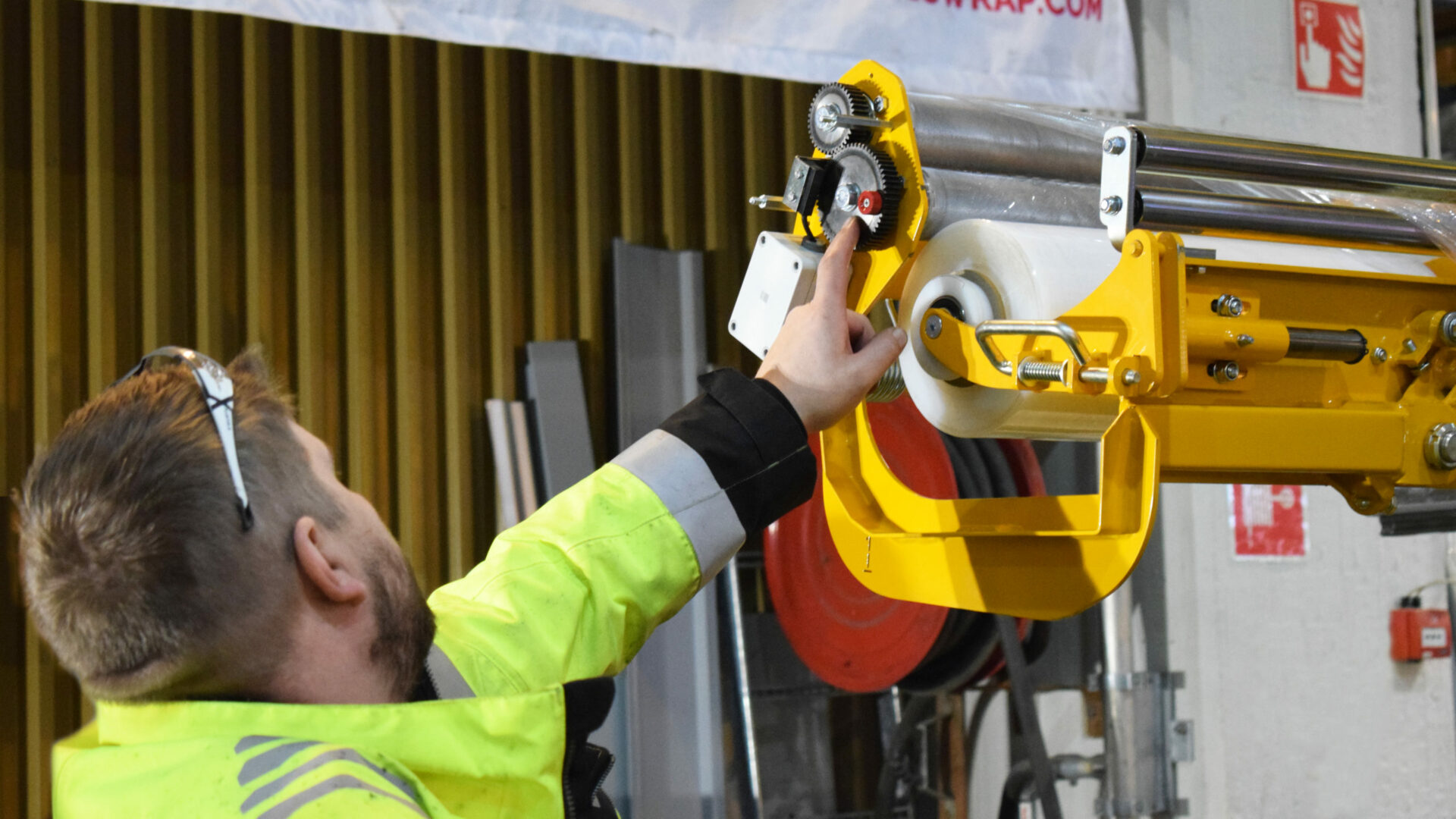 The assembly team is integral to ensuring machine functionality both during testing and on customer sites.
According to Teemu Turpeinen, Cross Wrap's production manager, assembly is usually ready to begin approximately 19—23 weeks after a customer has placed an order. Whilst the assembly team is putting the machine parts and electrical components together, the automation engineers are preparing the program code.  The mechanical and electrical assembly are done simultaneously, after which the test runs are ready to begin.  "Test runs usually take one to three weeks, depending on the project the size of the board packaging line", Teemu Turpeinen approximates.
Read next: Automatic Cross Wrap Boad Packaging has its benefits
Testing takes time and precision
All Cross Wrap machines are tested thoroughly before they are shipped to customer sites. During the test runs, the machine's functionalities are tested manually. For board packaging lines, this includes testing the conveyors, seaming units, wrapping, labelling robot, and the automatic programs for customer required capacity. For example, testing and calibrating every sensor on the machine is required so that the conveyors can drive bales to their designated spots on the line with millimeter's precision.
The machine functionality is tested with test stacks of varying heights, weights, and sizes. Lighter and smaller veneer test stacks are used for testing placements, conveyor synchronization, and the functionality of sensors and the program. A heavier test stack is used to test the wrapping process, as well as the skid machine.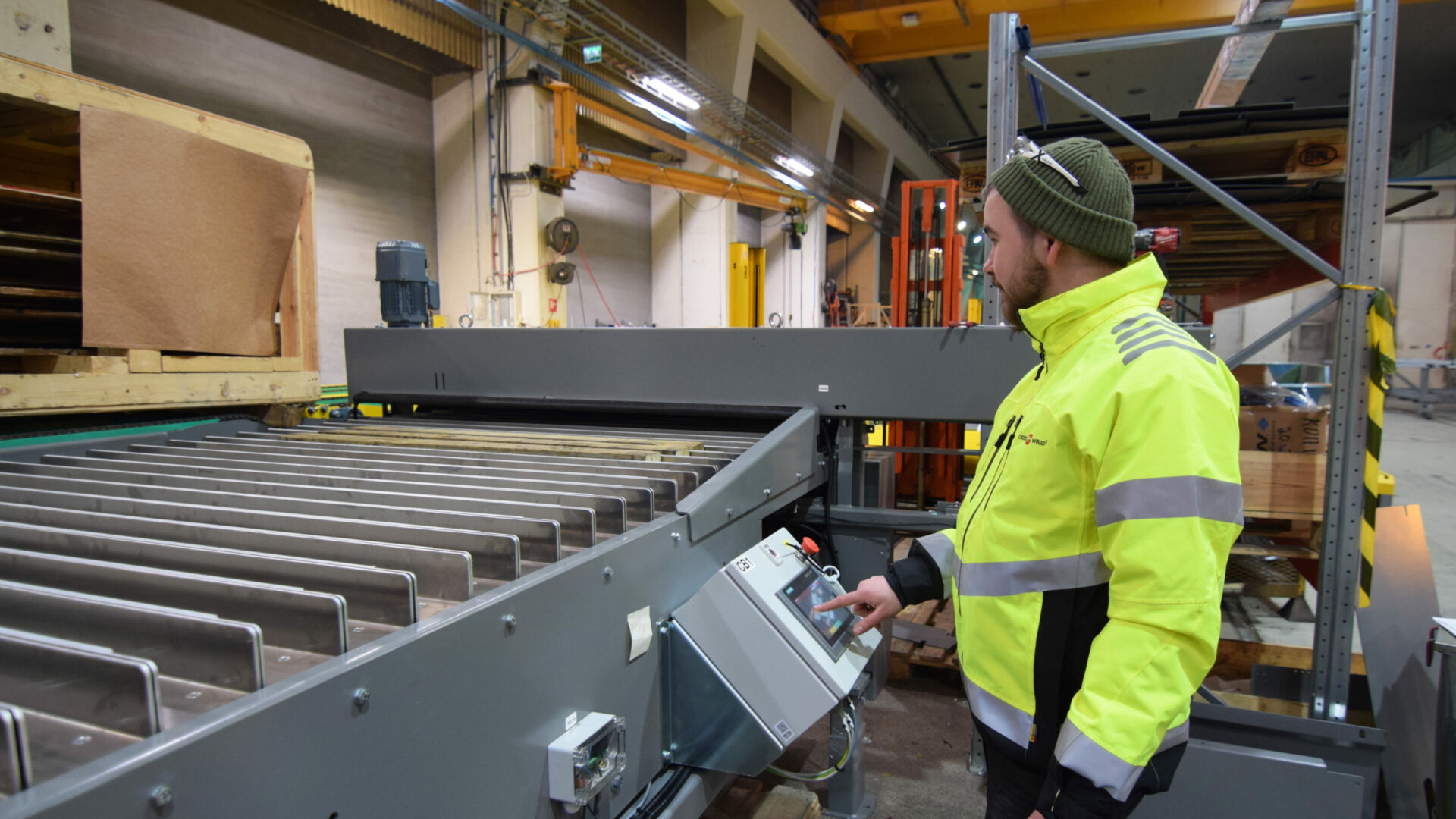 Automation engineers customize the machine program according to customer needs.
Many special customer needs can be met with a change of program, and customization is very typical at this stage of the process. For example, if the client wants a fire safety protocol for the machine or has special labelling needs for the packages, these changes are done and tested during test runs. "Us automation engineers tend to do some product development at this stage, as we can adapt and develop the code according to customer production needs and facility requirements", says Santeri Virolainen, automation engineer.
"One new thing we have been working on is solving a problem with wrapping freshly painted veneer stacks", Santeri Virolainen explains. "We've updated the program so that the machine operator can set a waiting time for the stack. The stack of boards is driven to a specific conveyor, where it waits for the paint to dry before wrapping. This way we can prevent fresh paint from being messed up during wrapping."
Packing up the machine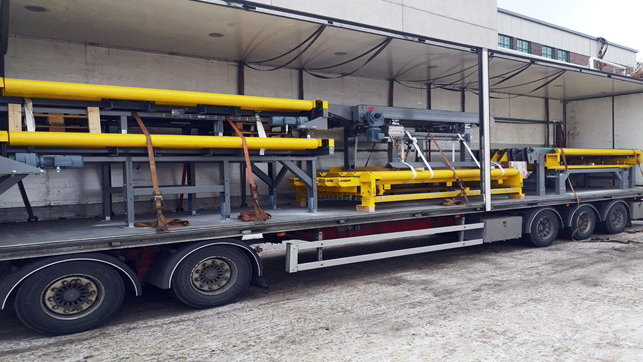 After test runs are completed, the board packaging line is ready to be shipped to its new home.
After the board packaging line's functionality is perfected, it is ready to be sent to its new home. At this stage, the machine is as ready as possible, and only requires small adjustments on site. "Our goal is to prepare the machines well to make commisioning go as smoothly as possible. All Cross Wrap machines are comissioned by our experts to ensure best wrapping result, best performance with varying stack sizes, and ensure we can adapt to changing customer conditions", says Santeri Virolainen.
For loading, the electrical and mechanical components of the machine are partially dissembled to prepare the machine for transport. According to Teemu Turpeinen, the machines are packed in shipping containers with a bridge crane and then sent on their way via trucks or sea freight, or in some cases, via air freight. A separate rust protection is put in place for sea freights.
A more efficient way to package boards
The production time for board packaging line falls between 22 to 26 weeks, depending on the project. During that time, the machine is manufactured, assembled, tested, and loaded for shipping. After that, the smartest board packaging machine is on its way to a customer site.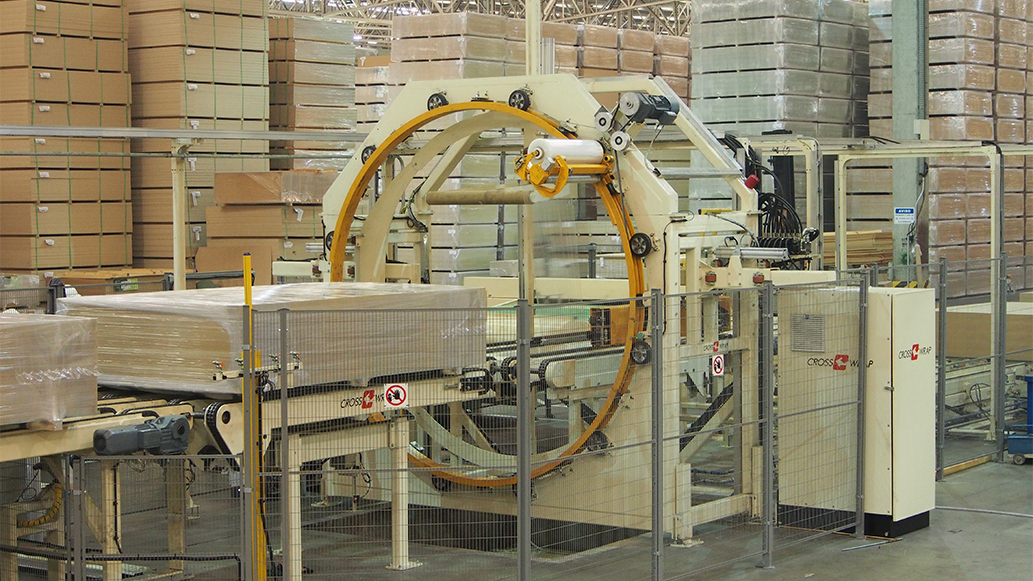 Finished board packaging line.
Cross Wrap's Board packaging line is the most efficient and cost-effective method for packing any types of boards, including plywood, veneer, and gypsum. The Cross Wrap wrapping method is completely automatic, and the packaging covers all sides of the board stack, keeping moisture and dirt away from the product. The neat cross wrapped package protects the boards during transportation, handling, and storage.
Get in touch with us if you want to hear more about our next generation solution to board packaging: sales@crosswrap.com
Learn more about the CW Board packaging line here.