Blog
A "start-up" turned into a global industry-leading company
A "start-up" turned into a global industry-leading company
A "start-up" turned into a global industry-leading company
When writing this blog, we live the last weeks of 2021. The year has been exceptional in my working history because of many reasons. In this blog post, I will try to briefly summarize my 27 years as the CEO of Cross Wrap and give more profound insight into Cross Wrap's year 2021.  
This blog was written by Satu Kivelä, CEO of Cross Wrap, in November 2021. 
Waste and recycling business from 1994 to 2021
I have been privileged to closely follow the global development of the waste and recycling business for more than 27 years from the date Cross Wrap was started. The evolution from waste landfilling to more advanced methods of treating waste and recycling materials to be utilized more environmentally friendly and safely created the demand for Cross Wrap solutions and products. One of the key features of the Cross Wrap's story so far has been our ability to listen carefully to our customers' needs to create R&D operations and the supply of CW products.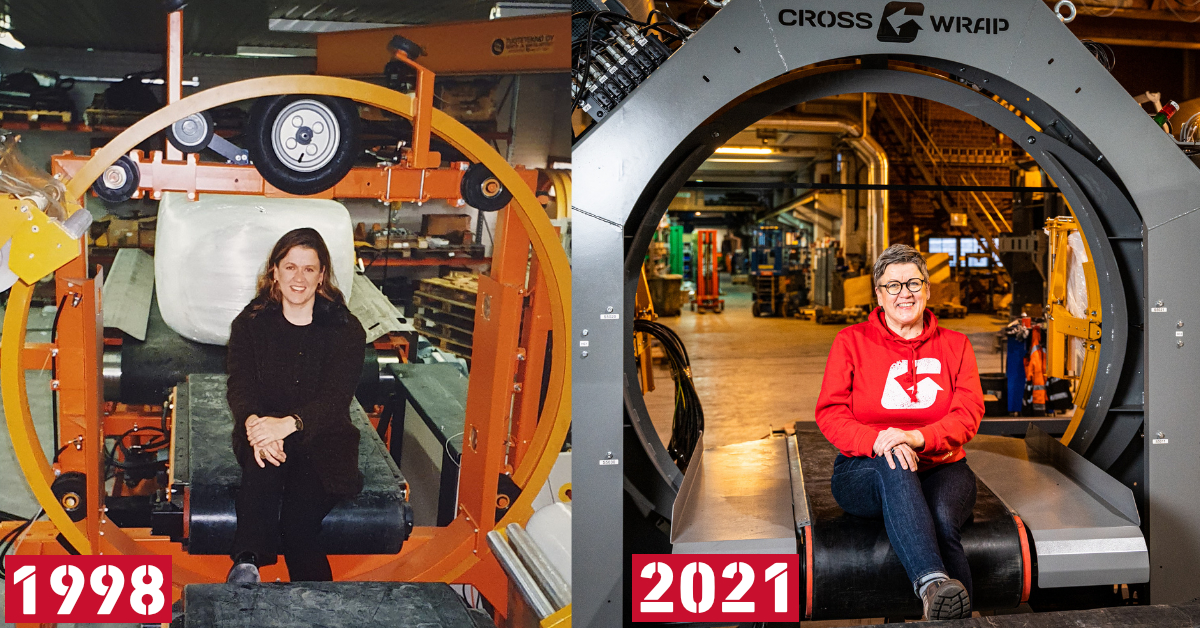 Mrs. Satu Kivelä & CW Wrappers, 1998 and 2021.
Cross Wrap path, with its innovations to serve our industries, has been full of work, and exciting projects globally – growth, great end customers and partners, success and failures from time to time as well but always going forward. 
I have enjoyed working with so many talented, hard-working colleagues in Cross Wrap for almost three decades. If there is one piece of advice that I could give in business in general, the advice would be this: The company's most important asset is its people – take care of them.
Today's hot topics are climate change, sustainable development, more effective utilization of materials, and circular economy. All businesses and countries have to carry their social and environmental responsibility now and in the future. I am proud to see how Cross Wrap's customers and partners follow these trends in their operations. Also, I am pleased to see how CW products and solutions help our customers to reach their goals. 
The exceptional year of 2021
I thought I had seen it all in the 25 years of leading Cross Wrap in 2019. How wrong I was back then. The covid pandemic has pushed businesses to find new ways to serve their customers during the past two years.
I could not be more proud of how Cross Wrap adapted quickly to exceptional circumstances and made a never-before-seen development and growth, especially during 2021.
Covid pandemic and business
It seems that we will have the effects of the Covid pandemic in our lives many years further on. Businesses were shocked at first sight of Covid-19, but many of the smart ones could also adapt quickly. I'm proud to say that Cross Wrap's whole organization showed its capability for an agile way of adapting to the situation during the years 2019 – 2021.
Despite the challenges we all have faced during the past years, I want to share encouraging words for the industries where Cross Wrap is present. Whatever happens in the world in the upcoming years, there is always a need for smarter solutions for waste-to-energy, waste management, plastic and paper recycling, and packing solutions. 
We all can be grateful for working in industries that have meaningful purposes today and especially in the future. 
Development and Growth 2021
Cross Wrap continued the growth in its business areas and revenue during 2021. The market position in the paper and plastic recycling industry was strengthened. We maintained our leading position in the Waste-to-Energy industry and successfully continued serving our customers with 27 years of experience and ongoing development of new innovations to our machines.
 Our sales and marketing went through a significant change – to operate without exhibitions, events, and physical meetings with the customers from spring 2020 until autumn 2021. We met our customers only in Teams and Zoom meetings and phone conversations to serve them with our solutions.
 We arranged online webinars to communicate our new development and solutions to our customers. The customers did welcome the webinars and participated in these with high activity. To ensure the communication towards our partners and end customers, we invested heavily in digital marketing and communications.
 We also developed remote installation, start-ups, and training services to commission the machines remotely when we could not travel to customers' sites.
 Finally, within the past three months of 2021, we were more than excited to participate in exhibitions like Pollutec, PRSE, Miac, and Ecomondo. We also traveled to have face-to-face meetings with our customers and partners for the first time in 18 months. 
In these events and meetings, we experienced how important it is to meet the customers and partners physically, not only online, and see how these meetings upgrade the communication between people.
 After all, getting back to face-to-face meetings with our customers is one of the most important developments in business communication.
Company acquisition – from one family to another
 In February 2021, the founders of the company, Me and my husband Kalle Kivelä, and the third main shareholder, Canelco Capital, sold Cross Wrap to another Finnish family company Saalasti Group. This acquisition is a perfect match for two family companies to unite their forces to be stronger and more competitive to serve their customers in the global market. In case you have missed acquisition news, click here to read the official news post.
 From 2021 to the future on
 The year 2021 is reaching its end. I want to thank Cross Wrap customers and partners for the exciting path of 27 years. This year is exceptional for me also because I leave the company with great trust in the Cross Wrap's successful future.
I want to wish all the best of success to Mr. Jukka Pennanen, the CEO of Cross Wrap, starting from the 1st. of January 2022. With our devoted and professional team, he will lead the company to meet our customers' and partners' future needs and demands.
Click here to read the official appointment news of the new CEO Mr. Jukka Pennanen.
Most of all, I want to thank Cross Wrap's team for building the company with Kalle and me during all these years. The combination of talent and devotion will have many more exceptional and successful years to come.
Best regards,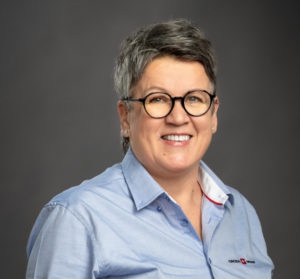 Satu Kivelä
CEO of Cross Wrap 
(until 31.12.2021)
P.S. During the following weeks, Satu & Kalle Kivelä will publish their combined thank you message and share some backstage memories along their journey with Cross Wrap – stay tuned.